Many private firms still hinge on to Aadhaar
DECCAN CHRONICLE | Naveena Ghanate
Published on: October 16, 2018 | Updated on: October 16, 2018
---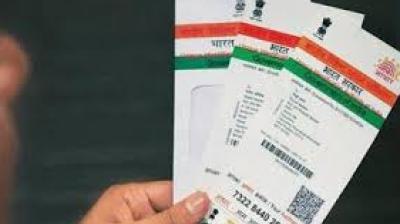 Hyderabad: While some private companies have embraced the Supreme Court's judgment that disallowed them from asking Aadhaar as ID proof, telecom operators and e-wallet companies like PayTM still prefer the use of Aadhaar number.
Techies in Hyderabad say that Sodexo, which issues food cards, is asking them to give any other ID proof not Aadhaar. Sodexo is a prepaid card so they cited Reserve Bank of India's KYC guidelines for asking for Aadhaar earlier.
A software engineer working in Hitec City said, "When a colleague gave an Aadhaar photocopy to get Sodexo food card, it was turned down by the operator. She was asked for other official valid documents."
However, a competitor of Sodexo, Paytm, is still asking for Aadhaar number to complete the KYC process, a violation of the Supreme Court judgment.
It may be recalled that in September the five-judge Supreme Court bench struck down Section 57 of the Aadhaar Act which allows private companies to ask customers for Aadhaar details for identification. This means you need not share your Aadhaar details with any private companies.
Researchers have reached out to private telecom companies to check if they are still asking for Aadhaar, as the deadline set by the UIDAI to submit their exit plans on closing down their Aadhaar-based authentication systems ended on Monday.
Kingsly John, an internet researcher asked if Reliance Jio has stopped seeking Aadhaar details, to which Jio responded evasively: "You can avail a new Jio Sim by filing the customer application form and submitting proof of identity, proof of address and a passport size photo."
Dhananjay Kumar asked Airtel the same question and an Airtel executive on Tuesday said, "Aadhaar based authentication is a faster process compared to normal paper document based procedure. So we recommend Aadhaar based procedure. However, it is not mandatory."
A user, who asked about delinking Aadhaar from mobile numbers and getting a fresh KYC process done, got this answer from Vodafone: "All telecom operators follow guidelines issued by DoT. Once we receive communication on delinking Aadha-ar card details from DoT, we will update the customer."