Arif Muhammed Khan visits his old friend KP Unnikrishnan
DECCAN CHRONICLE | DC Correspondent
Published on: September 14, 2019 | Updated on: September 14, 2019
---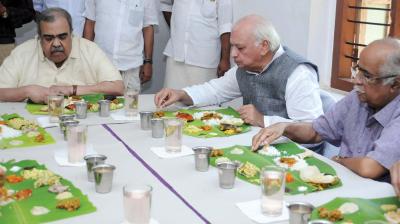 KOZHIKODE: Governor Arif Muhammed Khan has expressed concern over the plight of the residents of the Maradu flats which are facing demolition. "It will not be proper to comment on a matter which is sub judice. What we will do and what the government will do cannot be spelt out now," he said here on Saturday.
The governor was addressing reporters after a visit to his long-time friend and former union minister K.P. Unnikrishnan,83, at his home at Panniyankara here. Mr Khan, 68, was received by Mr Unnikrishnan's family members, including daughter Niranjana.
Both shared their memories of their past political life as Congress leaders and also as rivals. Mr Unnikrishnan said that their friendship had started during the student days in Aligarh University. "Political differences never affected our friendship," he said. They were ministers in the first V.P. Singh government at the Centre in 1989.
Mr Khan who reached the house around 12 noon stayed there till 3 p.m. He said he had learnt many things from Mr Unnikrishnan who was senior to him in Parliament. Mr Khan had an early start in politics and became a minister at the age of 26. "At a time when you have to enjoy your life, I was in jail as part of active politics," he said. During his break from politics, he was a columnist for many newspapers.
Referring to the role of the governor, he said that the governor is the agent of the president as per the Constitution. "The role of the governor is to ensure that a democratically-elected government functions in accordance with the letter and spirit of the Constitution. My role is to encourage them to provide better governance, implement welfare schemes and ensure that the benefits of these schemes reach the poorest. My priority will be to go by the rule," he said.