PM Modi urges teachers for ways to improve learning
DECCAN CHRONICLE | DC Correspondent
Published on: August 11, 2018 | Updated on: August 11, 2018
---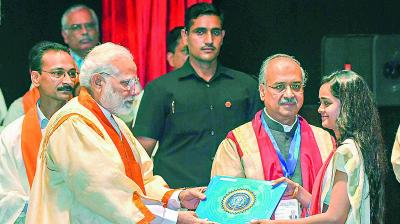 Mumbai: Prime Minister Narendra Modi on Saturday pitched for improving the quality of education in institutions like IITs and invited suggestions from teachers and intellectuals in this regard. He also stressed the need for innovation, saying that societies which do not innovate, stagnate. Addressing the 56th annual convocation of IIT-Bombay on Saturday, Modi announced a financial aid of Rs 1,000 crore for the institute, saying that six decades of "constant trying" had made it an institute of eminence.
He said seven lakh engineers pass out of the country's educational campuses, and a collective effort was required to ensure they get high quality of education and acquire necessary skills. "I appeal to teachers and intellectuals present here that they should think about how quality can be improved and come up with suggestions. It is our responsibility to ensure that not only quantity but quality too is of high level. The government is also actively taking steps for this," Modi said.
Heaping praise on IIT-B, Modi said, "It is due to last six decades of constant trying that IIT-B has made its place as one of the country's eminent institutes. You will be receiving a financial aid of Rs 1,000 crore which will help in the development of infrastructure." The PM said several students who have graduated from the institute are actively participating in the country's development. Mr Modi said that in the last four years, seven IITs, seven IIMs (Indian Institute of Management), two IISER (Indian Institutes of Science Education and Research) and 11 IIITs (Indian Institute of Information Technology) have been approved.