Nizamabad: Shortage of blood affects patients in emergencies
DECCAN CHRONICLE | Narender Pulloor
Published on: May 8, 2019 | Updated on: May 8, 2019
---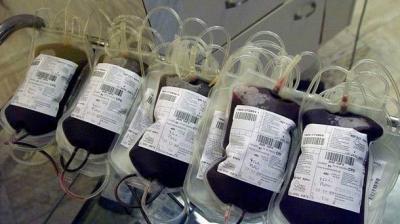 Nizamabad: Shortage of blood in blood banks is adversely affecting the patients in Nizamabad and Kamareddy districts. In view of hot weather, donors are hesitant to donate blood voluntarily. As a result, patients in emergencies are facing life threatening situations.
Usually, youths and students came forward to donate blood regularly. Red Cross blood bank and other non-government organisations also conduct camps for blood donations, but because educational institutions were closed across the district due to summer vacations, students are not available to donate blood.
However, apart from professional donors not being available, other enthusiastic blood donors are hesitant to donate blood in summer.
Srinivas Goud, a police constable, who had attempted suicide by shooting himself with his rifle faced a difficult situation in Kamareddy last Friday due to shortage of blood. He was immediately shifted to Hyderabad for emergency treatment.
Speaking to this correspondent, BC welfare association Nizamabad district president Narala Sudhakar said that they conducted a blood donation camp recently to meet the emergency needs. "We noticed shortage of blood in the district and initiated steps to collect blood units for patients facing emergencies," he explained. Replacement of blood by kin of patients would also solve the problem, he added.
Meanwhile, the Government General Hospital in Nizamabad, the district headquarters hospital in Kamareddy require regular blood units as deliveries of pregnant women and orthopaedic cases are high.
Doctors are also facing a difficult situation with shortage of blood during surgeries and brought up the situation to the notice of higher-ups.