Hyderabad: SC, ST funds misused, say Dalits
DECCAN CHRONICLE | Durga Prasad Sunku
Published on: September 5, 2019 | Updated on: September 5, 2019
---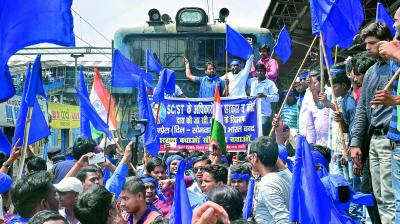 Hyderabad: Dalit organisations allege that state government is misusing funds allotted for the SC, ST Special Development Fund (SDF).
They stated that in the last five years, around Rs 56,979 crore was allotted to the Scheduled Castes out of which Rs 23,618 crore were misused; Rs 33,623 crore was allotted to the Scheduled Tribes out of which Rs 14,202 crore were misused. The budget allocated to the SC Special Development Fund is only on paper, they said.
Most of the money has been diverted or misused. In the last five financial years since 2014, a total of Rs 56,979 crore were allotted to the SC SDF and Rs 36,658 crore released of which Rs 33,361 crore were spent on activities.
It is the same scenario with the ST Special Fund.
In the last five financial years since 2014, Rs 29,930 crore was allotted to the ST special development fund of which Rs 12,912 crore were spent on the activities. "The funds were diverted to irrigation, transport, Musi development and other projects," alleged P. Shankar, a Dalit activist.
Battula Ram Prasad, another Dalit activist said, "If the funds were not spent, they should be carried forward but this was not done. As per the act, the state council meeting should be conducted twice a year, chaired by Chief Minister K. Chandrasekhar Rao. State and district level funds monitoring committees are not yet formed."
Recently in June, Dalit organisations gave a representation requesting Ajay Mishra, special chief secretary, SC Development Department to effectively implement the SC/ST SDF Act and pointed out the issue of funds mismatch. They brought the appointment of a special finance secretary, conducting social audit and nodal agency meeting on a regular basis to his notice.
Speaking to Deccan Chronicle, P. Shankar further said, "There is a lot of delay in self employment loans for SCs and STs. Though 26,731 individuals were selected for loans, only 7,943 received the benefit for the financial year 2016-17 and others are still awaiting their turn."
On September 13, Dalit organisations plan to conduct a state-level meeting to discuss the road map for forcing government to release the funds.