Hyderabad: Railway tea vendors use toilet water; agency rapped
DECCAN CHRONICLE | DC Correspondent
Published on: May 2, 2018 | Updated on: May 3, 2018
---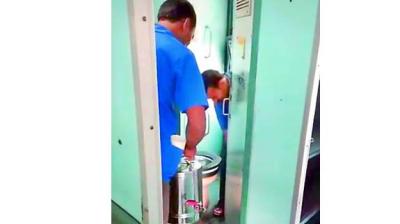 Hyderabad: Are you a person who do not miss sipping a tea or coffee in trains? Be cautious as it may be made from toilet water in the trains. A video that spread on the internet recently shows that tea and coffee vendors in trains make use of water from the toilets. The video shows a man in a blue shirt, seen waiting outside the western toilets, to collect the water filled tea cans and to hand it over to the vendors.
The man who is waiting outside the toilet is also very cautious while filling the tea cans with toilet water so that no one can expose their act. The toilet door is seen closed from inside and a man inside the western toilet fills the tea cans and passes it to the man waiting outside the toilet.
The passenger who shot the video also questioned him after the man was caught red-handed while filling the tea cans with toilet water. The video was reportedly captured by a passenger while few workers of train vending contractor P. Sivaprasad in the section between Secunderabad and Kazipet tried mixing water in the tea cans in the Chennai Central – Hyderabad Charminar Express at Secunderabad railway station. A penalty of Rs 1 lakh has been levied from the contracting agency through IRCTC.
Annoyed people and train passengers lashed out at the railway authorities for not having mechanisms for strictly monitoring such cheap tricks done by tea vendors in trains.
The video was shared widely on social media with a tagline 'Never Drink Tea, Coffee and Soups in Trains, Tea Sellers are Using Toilet Water'. According to Secunde-rabad Railway Station (SCR) authorities, the incident had occurred in December, 2017. An inquiry was held to identify the wrong doers and initiate appropriate action.
While clarifying about the video being circulated on the social media, SCR spokesperson told this newspaper, "On the basis of the inquiry, stringent action has been taken up against the train vending contractor P. Sivaprasad, with whom the identified vendor in the video was employed. A penalty of `1 lakh has been levied."
"Two other persons seen in the video are unauthorised hawkers. A strict vigil is continuously being kept at various levels to ensure that no such incidents recur on the zone," the SCR chief spokesperson said.