Guilty won't be spared, Kodiyeri Balakrishnan assures Sreejith's family
DECCAN CHRONICLE | DC Correspondent
Published on: May 1, 2018 | Updated on: May 1, 2018
---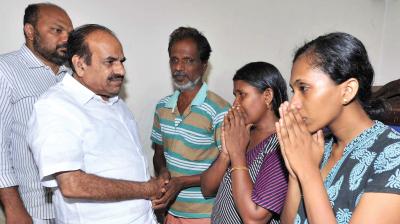 Kochi: In what may be an attempt to pacify critics of state government in the Varappuzha custodial death case, CPM state secretary Kodiyeri Balakrishnan on Monday made a surprise visit to the house of victim S.R. Sreejith and demanded government job for the deceased youth's wife and compensation for the family. Addressing reporters after visiting Sreejith's family, Mr Balakrishnan said CPM is always with the "victims" and will take strict action against the guilty, however influential they are. The government was approaching the case without any prejudice and the police officials who are culpable will be punished, he said.
Mr Balakrishnan visited the youth's house at Devaswompadom along with party district secretary P. Rajeev just before attending a meet organised by the CPM to give political explanations to charges raised against the party leaders in the case.
The senior leader tried to justify Chief Minister Pinarayi Vijayan not visiting the house during the latter's recent visit to the city, saying he may have had prior official commitments due to which he could not visit the family. Mr Balakrishnan said that the previous LDF Government enacted the Police Act to ensure functioning of police as per the law.
However, the CPM leader tried to dodge a question over whether he was satisfied with the crime branch probe in the case. "It's not for outsiders to comment on the investigation progress. The victim's family can approach the court if they have any complaint over the progress of the probe," he said.
When asked whether the government will order a CBI probe into the case, he said the same was before the consideration of the court and it can take a decision on that. Mr Balakrishnan did not face any vociferous protest as widely perceived and there was a heavy posse of police in Varappuzha for his visit. The family complained to him about the brutal way in which Sreejith was treated while being taken into custody.
He also visited the house of Vasudevan who committed suicide after a gang attacked his house on April six last. Sreejith was falsely taken into custody later in the night on that case and died on April 9 allegedly due to custodial torture. Later, addressing the meet organised by the party, Mr Balakrishnan trained his guns on Opposition Leader Ramesh Chennithala who had earlier charged the CPM local leadership with directing the cops to torture the youth in custody. "During tenure of the Mr Chennithala as home minister, four lock-up deaths were reported and the brother of one of the victim had conducted a long-drawn strike in front of the secretariat to get justice which was addressed by the LDF government," he said.