Andhra Pradesh: Tainted sarpanches fearless
DECCAN CHRONICLE | DC Correspondent
Published on: November 30, 2017 | Updated on: November 30, 2017
---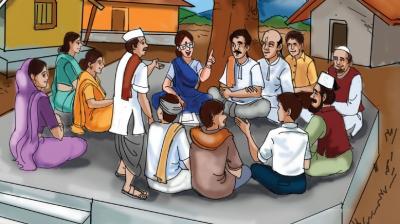 Khammam: The sarpanches who are facing charges of misusing funds and who have inquiries initiated against them are not taking the official notices seriously. Instead they are trying to wriggle out of the inquiries by seeking the help of political leaders.
There are 427 panchayats in Khammam district. About 11 sarpanches and two panchayat secretaries are facing allegations of the misuse of funds. Another eight sarpanches in Khammam have lost the power to sign cheques. The cheque issuing power of Raghunathapalem sarpanch was cancelled by the district collector and he approached the court, which repealed the GO.
Vandanam sarpanch under Chintakani mandal has been facing allegations of misusing cheque power. The investigations in the case are moving at snail's pace. Nayakangudem sarpanch under Kusumanchi mandal used Rs 24 lakh funds without submitting bills. The sarpanch of Bhairavunipalli under Nelakondapalli mandal spent Rs 9 lakh against guidelines and his cheque issuing power has been cancelled. In Bhadradri-Kothagudem, there are 205 gram panchayats in the district. About 10 sarpanches and two secretaries have been facing inquiries and cheque-issue power cancellation.
Bethalapadu sarpanch under Julurpad mandal misused Rs 1.20 lakh in purchasing electrical material and her cheque-issuing power has been cancelled. The same fate was experienced by Janampet sarpanch under Pinapaka mandal for misusing Rs 9 lakh funds.The misused amount of these sarpanches is to the extent of Rs 27 lakh and so far only Rs 52,000 has been recovered from two sarpanches.
But now the sarpanches are showing scant respect for the inquiries against them and their coteries are even making light of their loss of cheque-writing-power. All these sarpanches are using their powers to either delay the inquiries against them or repeal the orders of cancellation of cheque-issuing power. Many of the sarpanches, who were in Opposition have joined ruling party. Many feel that the attempt to curb corruption at the panchayat level is a wasted effort.