Mirza Ghalib, his love for mangoes and lesser known facts
DECCAN CHRONICLE | Soumyabrata Gupta
Published on: December 27, 2017 | Updated on: December 30, 2017
---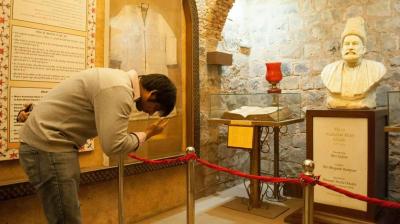 Google Doodle on Wednesday celebrated the birthday of Urdu poet Mirza Ghalib on his 220th birth anniversary.
Mirza Ghalib, who perhaps has one of the biggest contributions to Urdu literature, was born in Agra on December 27. Honoured with titles Dabir-ul-Mulk and Najm-ud-Daula, he is widely regarded as the last great poet of the Mughal era.
Speaking to this correspondent, Asif Khan Dehlvi, a history buff, the founder and storyteller of Delhi Karavan elaborates upon a few lesser known facts about Mirza Asadullah Baig Khan who became immortalised as Ghalib.
Dehlvi says, "It was during the lifetime of Ghalib that the Mughals were eclipsed and eventually displaced by the British. Bahadur Shah Zafar II, the last Mughal emperor of India was deposed following the defeat of the Indian rebellion of 1857, and these are a few of the things that can be found in the later writings of Ghalib."
However, Dehlvi adds that the biggest contribution of the 19th century poet his several ghazals, which have been interpreted, sung and immortalised.
"He loved eating," says Dehlvi, adding, "Bhuna Gosht, Shammi Kebab, Sheekh Kebab, Lentils, Sohan halwa were just a few of the things that he loved having."
The history buff from Delhi goes on to add that Ghalib's love for food was not restricted to these only. "He was extremely fond of mangoes," he says.
Dehlvi goes on to add that there was this one time Maulana Faizal-e-Haque along with others had congregated and were discussing mangoes. Ghalib too was present there and when he was asked about his passion for mangoes, the poet replied,
"Aamo main buss do khubiya honi chahiye, ek meethe ho aur bohut saare ho." (Mangoes need to have two qualities, they need to be sweet and there needs to be plenty.)
However, Ghalib's love for mangoes did not end there. Dehlvi explains, "There was this one time the poet was out on a stroll with Bahadur Shah Zafar when they came upon a mango orchard at Lal-Qila. Zafar noticed that Ghalib was looking intently at one of the trees which were particularly laden with fruit. Perturbed, the emperor asked him why he was staring at the tree."
Ghalib is said to have replied,
"Badshaah salamat maine buzurgo se suna hai,/ Daane Daane pe likha hai Khaane waale ka naam. Ibn falon ka naam, ibn falon ka naam… Dekh raha hoon kisi aam pr mere baap dada ka naam bhi likha hai kya."
(Oh emperor, the wise say that each morsel has the name of the person who will eat it, am seeing if any of the trees have the name of my fathers or forefathers etched on the."
Dehlvi goes on to add that the emperor understood what Ghalib wanted and sent him baskets full of mangoes that very same day.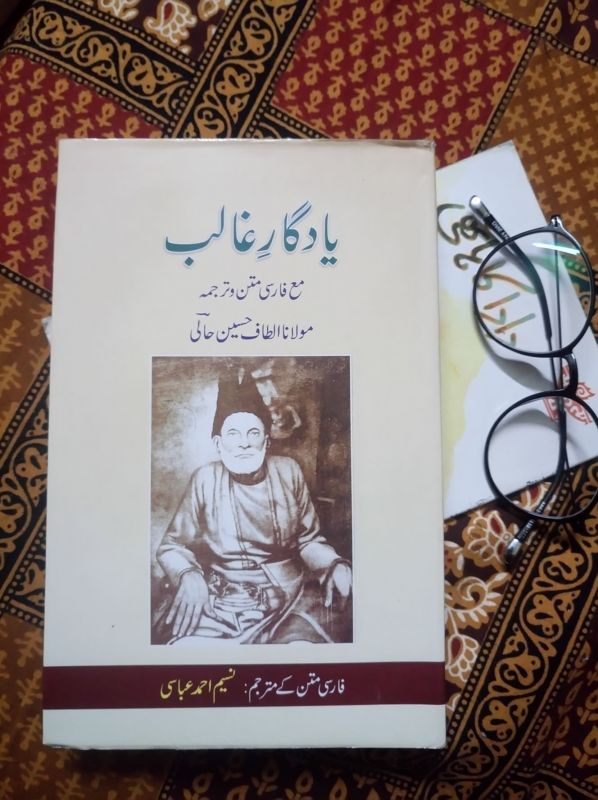 A book on the life of Ghalib. (Photo: Asif Khan Dehlvi)
Dehlvi poignantly further reveals, "Even though Ghalib was an extremely renowned poet, there was this one time when he heard something penned by Hakin Momin Khan Momin. The lines went something like this: 'Tum mere paas hote ho gayo jab koi doosra nahin hota.' (You are with me in those times when there is no one else beside me.' Such was Ghalib's adoration for the verse that he supposedly told Momin,
"Hakim Saab aap mera sara deewan le lijiye aur badle main mujhe apna yeh sher de dijiye." (Hakim take away all my poetry but just give me these verses.)
Ghalib was for the most part lost in his own world, says Dehlvi. He refers to a poem that the legendary poet had written, "Hinduyo main koi avatar hua to kya,/ Muslamano main koi nabi hua toh kya, duniya main namvar huya toh kya, aur gumnam jiye to kya." (Hundus might have their avatars and Muslims may have their prophets, there may be the famed in the world, how does it matter if someone is remains unknown.)
Interestingly, Dehlvi adds that Ghalib's memory too was strong, Whatever couplets he would say at night, he would just tie a knot on his handkerchief for the same, early next morning he would open each knot and write down the corresponding verses from his memory."
According to a book written by Ghalib's student Atlaf Hussain Hali, says Dehlvi, while Ghalib's descriptions of Delhi have immortalised the national capital, there were few takers for his poetry during his lifetime. This, Dehlvi feels is mostly because people did not understand his lofty language.
Most people, according to Dehlvi, would say,
"Inka likha yeh khud samjhe ya khuda samjhe."
(His writings can be understood by him or his God.)
Other facts about Ghalib that are lesser known include the fact that he has seven children, none of whom survived, he was awarded the title Dabir-ul-Mulk by Emperor Bahadur Shah Zafar II in 1850, along with the title of Najm-ud-daulah and it was Bahadur Shah Zafar II who awarded him the title of Mirza Nosha, hence the addition of the word 'Mirza' to his name.
In fact, some of the most poignant accounts of a decrepit Delhi after it was razed by the British soldiers can be found in Ghalib's Dastambu.
Dehlvi says, "His diary is a first person account of Delhi during the rebellion and its aftermath. The situation had worsened to such an extent that Ghalib write that Muslims were barely visible in the streets of the Capital. While Hindus were still allowed to burn their dead near the river, Muslims were, at most times, not even permitted to bury their dead on the city outskirts."
Ghalib's brother passed away at this time and the poet recounts how he had to take help from a sepoy from Patiala who along with two of the poet's servant stealthily cleaned his brother's body before burying him in the mosque adjacent to their house."
It was during this time, dehlvi believes Ghalib started losing hope. "With no money for sustenance, he started selling off his clothes and other household items to make ends meet.
By the time Ghalib reached the age of 70, years of excess, followed by suffering had made his memory diminish. His hearing was gone and his hands trembled, but it is said he was still mentally alert.
And even though Delhi towards the end of his life was cause of much sorrow, it was this same Ghalib who immortalised Delhi, when he wrote,
"Ik roz apni rooh se poocha, ki dilli kya hai, to yun jawab main keh gaye, yeh duniya mano jism hai aur dilli uski jaan
(I asked my soul, 'What is Delhi?' It replied: 'The world is the body, Delhi its soul")
Ghalib who wrote poems about love where the gender of the beloved is unspecified, died on February 15, 1869.