Expressions in poetry
DECCAN CHRONICLE | Vandana Mohandas
Published on: April 12, 2018 | Updated on: April 12, 2018
---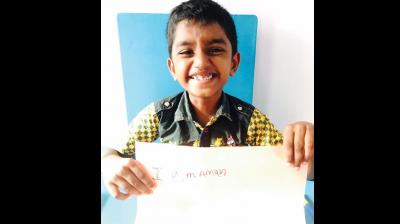 When I look into the river/ I see me dark and clear/ But, when I tried to look deep in the water/ I don't see me anymore. Like the river, deep are these verses penned by seven-year-old Muhammed Aman. The River is the same one he passes every day, on his way to his school. An autistic boy with extraordinary talent, this little poet is the pride of his family, friends and teachers.
Aman was just two when his parents Shameer Paduvathil and Naseera discovered that he was autistic. Shameer says, "He hadn't started to speak and was very uncomfortable being hugged. He was even scared of crowds. We couldn't understand that those were autistic traits. But when we learnt it, we started intensive therapy." Thanks to timely intervention, the sensory issues were brought under control, but there was not much progress in speech. At four, Aman used to stare for hours at the English newspapers and magazines brought home by his father, who works in a printing press.
The parents thought he was imitating people reading books and magazines. But when he started learning to write using augmentative and alternative communication devices like writing tablets and touch pads, Aman surprised everyone by writing words and meaningful sentences. "I still don't know how he does it. Earlier, we thought he was replicating from his memory and started giving him topics to write. But he wrote poems," Shameer says.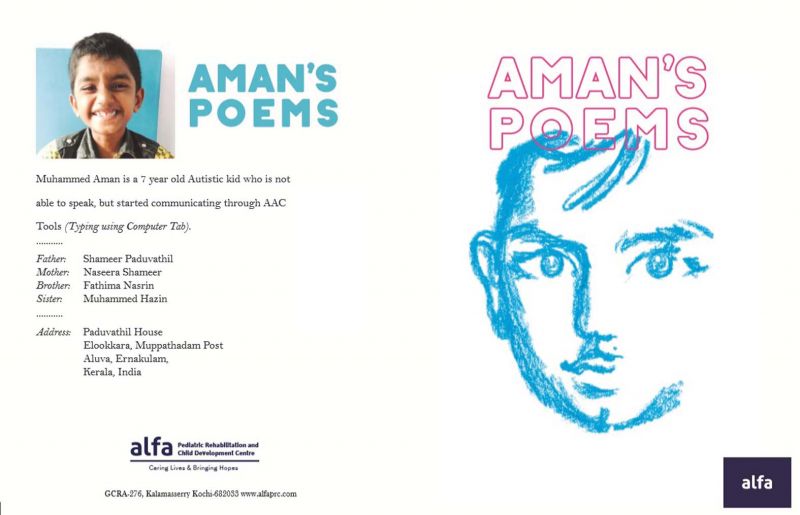 Book cover.
In the poem Sky, Aman writes: When I look into the sky,/ I slide into another world/ A world only me/ And my thought are occupied Aman's subjects are mostly of the sights he comes across. To pen each poem, Aman needs a day or two, and beside him his mother. The family goes on short trips and Aman loves the journeys that gives him new subjects apart from enough time to play with his siblings Fathima Nasrin and Muhammed Hazin. He still doesn't speak much apart from a word or two rarely, but his teachers at Alpha Paediatric Rehabilitation Centre and Kuttikkattukara UP School call him a genius because their darling child has answers to all questions and never ceases to surprise them.
Amazed by Aman's talent, poet K. Satchidanandan writes, "There's a deep inexpressible anguish behind some of his words and a passionate desire to convey that anguish in the words he knows as precisely and poetically as possible." The child prodigy is all set to release his first book Aman's Poems, featuring 10 of his works. The release will happen at PWD Rest House, Pathadipalam, Kochi, on Friday.