Reading revival
DECCAN CHRONICLE | Sashidhar Adivi
Published on: July 2, 2018 | Updated on: July 2, 2018
---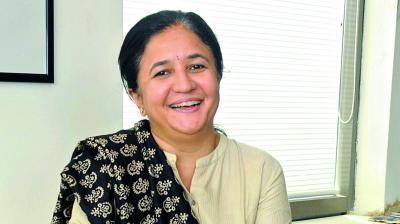 A former HR professional, Shefali Rao quit her job to instead spread the joy of reading books. A self-confessed bookworm, she undertook a "reading resolution" — to donate books and build libraries, an initiative meant to encourage people to take up reading.
Ask her what triggered this moment, and Shefali reveals, "I come from a family of voracious readers. But we are in an era where people are getting used to reading in gadgets. But by building libraries, these endangered books and stories can be preserved and reach hungry minds."
Further, she explains, "We source books for different age groups from various educational institutions and corporates and build an inventory. Once we get a request to set up a library, our team first visits the premises of the organisation to find out the feasibility. If the conditions are found satisfactory, we donate books to set up the library."
So far, through the foundation 'Food 4 Thought' which was set up in 2015 by Srinivas Rao and and Madhavi Sharma (founders) and Shefali has donated 47,000 books and set up 135 libraries across several cities. "Every book has a barcode, so the donor can track the whereabouts of his/her book through an app," she reveals.
Recently, Shefali also set up a community library at a city corporate hospital. "Since people are worried about their dear ones who are undergoing treatment, we want to divert their attention and create a positive impact. So we have set up a huge library that has books for both kids and adults."
Shefali is clear that she doesn't want to restrict herself to Hyderabad alone. "For instance, I have collaborated with IIT Delhi for a programme where every week, a student goes on a bicycle carrying books to underprivileged neighbourhoods. Interested kids can read the books and return them once they are done," she shares.
Shefali's latest project is setting up a library in a prison in Assam. "I was surprised to see the education levels of the prisoners. Since their IQ levels were high, I had to send them a lot of motivational, spiritual and self-help books," she says.