Doctors successfully perform Kolkata's second heart transplant
DECCAN CHRONICLE | DC Correspondent
Published on: September 25, 2018 | Updated on: September 25, 2018
---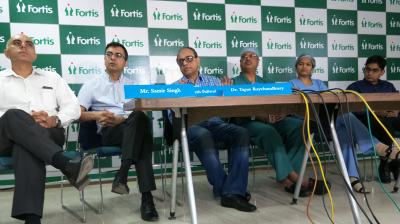 Kolkata: A team of doctors at Fortis Hospital, Anandapur successfully performed city's second heart transplant early morning today. The donor heart was transplanted onto a 51-year-old man from Salt Lake in Kolkata, giving him a new lease of life. The heart transplant was the only way to save the life of the person as he was suffering from Dilated Cardiomyopathy. The donor heart was made available after the patient succumbed to injuries suffered during a road accident and the family consenting to donate his organs.
The team of doctors who performed this surgery included Dr Tapas Raychaudhury, Director, Cardio Thoracic and Vascular Surgery and Dr K M Mandana, Director, Cardio Thoracic and Vascular Surgery along with Dr Saikat Bandopadhyay, Senior Consultant, Cardiac Anesthesiologist and Intensivist from Fortis Hospital, Anandapur. The heart transplant was conducted under the expert supervision of Dr K R Balakrishnan, Director, Cardiac Sciences and Dr Suresh Rao, Chief Cardiac Anesthetist from Fortis Malar Hospital in Chennai who to their credit run one of the largest Heart Transplant Programmes in Asia.
The donor heart was made available after a 24-year-old man was declared brain dead at a hospital in Kakinada in Andhra Pradesh. After a session of the counselling, the family of the patient decided to donate his organs to the needful recipients.
Once the recipient was identified in Kolkata, a team of doctors led by Dr Senthil Kumar from Fortis Hospital, Malar in Chennai rushed to the hospital to retrieve the live heart at 07:57 pm last evening which was later taken to the Rajmundry through a green corridor. The chartered flight with the live heart left Rajmundry at 09:27 PM and landed in Kolkata at 11:53 pm.
With coordination and cooperation from multiple key stakeholders, the live heart was transported from Kolkata airport to Fortis Hospital, Anandapur in 16 minutes covering a distance of 26 Kms. The green corridor was created by Bidhan Nagar and Kolkata police and the state administration along with Swastha Bhawan, which helped in every step.
Speaking about it, Dr Tapas Raychaudhury said, "The team at Fortis Hospital, Anandapur is extremely happy that we have successfully conducted city's second heart transplant. This is yet another step towards a robust Heart Transplant Programme in Kolkata. This is going to go a long way for treatment of patients requiring heart transplants in the region. We benefitted from the expertise in heart transplant acquired by Fortis group over the past decade."
Speaking about the condition of the patient, Dr K M Mandana said, "The patient is under constant observation for next 24 to 48 hours. His condition is stable."
Talking about the surgery, Samir Singh, Zonal Director, Fortis Hospital, Anandapur said, "This is truly a heartwarming and proud moment for all of us at Fortis Anandapur. Fortis Hospital Anandapur is performing the 2nd Heart Transplant in Eastern India after 1st successful heart transplant on Mr Dilchand Singh in May 2018. We extend our humble appreciation to all the stakeholders who tireless made efforts to save this precious life."