In dieting, low-fat or low-carb are the same: study
DECCAN CHRONICLE | DC Correspondent
Published on: February 21, 2018 | Updated on: February 21, 2018
---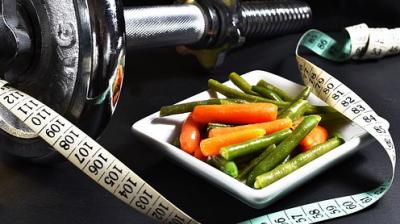 A precision nutrition approach to weight loss didn't hold up in a study testing low fat versus low carb depending on dieters' DNA profiles.
Previous research has suggested that a person's insulin levels or certain genes could interact with different types of diets to influence weight loss.
Stanford University researchers examined this idea with 600 overweight adults who underwent genetic and insulin testing before being randomly assigned to reduce fat or carbohydrate intake.
Gene analyses identified variations linked with how the body processes fats or carbohydrates, which the researchers thought would make them more likely to lose weight on a low-fat or low-carb diet.
But weight loss averaged about 13 pounds over a year, regardless of genes, insulin levels or diet type. Also, some people lost as much as 60 pounds and others gained 15 pounds — more evidence that genetic characteristics and diet type appeared to make no difference.
What seemed to make a difference was healthful eating. Participants on both diets who consumed the fewest processed foods, sugary drinks, unhealthy fats and ate the most vegetables lost the most weight.
The results suggest that "precision medicine is not as important as eating mindfully, getting rid of packaged, processed food" and avoiding unhealthy habits like eating while watching television, said lead author Christopher Gardner.
The study was published Tuesday in the Journal of the American Medical Association.
Participants had 22 health education classes during the study and were encouraged to be physically active, but the focus was on what they ate. They were advised to choose high-quality foods but were not given suggested calorie limits nor were they provided with specific foods. Results are based on what they reported eating.
During the first two months, dieters in each group were told to limit carbohydrates or fats to 20 grams daily, about the amount that's in 1 1/2 slices of whole wheat bread and a handful of nuts respectively. They were allowed to increase that to more manageable levels during the rest of the study.
Fat intake in the low-fat group averaged 57 grams during the study versus 87 grams beforehand; carb intake in the low-carb group averaged 132 grams versus 247 grams previously. Both groups reduced their daily calorie intake by an average of about 500 calories.
The study was well-conducted but because participants were not provided with specific foods and self-reported their food choices, it wasn't rigorous enough to disprove the idea that certain genes and insulin levels may affect which types of diets lead to weight loss, said Dr. David Ludwig, a Boston Children's Hospital obesity researcher.
Dr. Frank Hu, nutrition chief at Harvard's School of Public Health, has called precision nutrition a promising approach and said the study wasn't a comprehensive test of all gene variations that might affect individual responses to weight loss diets.
"In any weight loss diets, adherence to the diet and the overall quality of the diet are probably more important than any other factors," Hu said.