Boost your mood with the right food
DECCAN CHRONICLE | DC Correspondent
Published on: October 15, 2017 | Updated on: October 15, 2017
---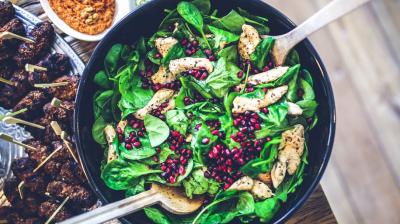 People all over the world suffer from depression, the blues and low moods.
You struggle to cope or feel demotivated and have difficulty to find joy in the simple things.
Sometimes, the solution to switching up your mood is in the food. Our diet can have a huge effect on how we feel research has shown.
Studies have also found an individual depressed can make bad food choices can worsen how we feel.
However, the right meal plan can do wonders. They can provide you with the right nutrition your body requires and give you a lift naturally.
In a report by the Daily Mail, Functional Nutritionist and Chef Christine Bailey suggests six eating strategies to help boost your mood.
Here are her recommendations.
1. Say no to processed foods: Saying goodbye to refined sugary carbohydrates and hello to proteins and vegetables rich in antioxidants can help your body avoid blood sugar imbalances and change your mood for the better.
2. Don't ditch the good fat: Avoiding healthy fats can impact your focus, concentration and your mood will suffer. Healthy fats are good for the brain. Olive oil, coconut oil and omega 3 rich oils are good sources of the kind of fat you need. Previous studies have also show walnuts and chia seeds help boost your mood and fight off depression.
3. Green tea: It contains powerful antioxidants that help protect the brain and helps improve focus and concentration and keep you calm.
4. Consume foods rich in vitamin D: Foods like mushrooms, liver, egg yolks and full fat dairy can help boost your mood. Low levels of vitamin D can cause depression.
5. Incorporate fermented foods in your diet:
Beneficial gut bacteria can help the body deal with stress, reduce anxiety and improve mood. Include fermented foods like yoghurt, kefir, sauerkraut, kimchi, kombucha and miso to your diet.
6. Give magnesium a go: Magnesium help you cope with stress, anxiety and sleep issues.