Fancy food habits making kids sick
DECCAN CHRONICLE | DC Correspondent
Published on: December 12, 2018 | Updated on: December 12, 2018
---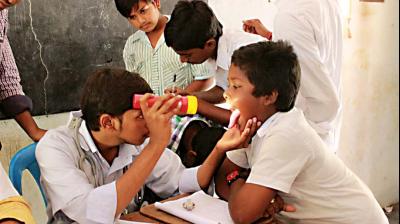 Bengaluru: In the name of modern lifestyle and fancy food habits, children these days are paying a heavy price through their health. The annual school health check findings 2018 revealed that 15% of private schoolchildren have a vision problems, 30% experience dental caries, 21% are obese/overweight and 14% are at the risk of lifestyle diseases.
These findings are from the school-based screening of nearly 83,000 children studying in private schools in Bengaluru. The study was conducted by the Bangalore Comprehensive Child Health Alliance (BaCCHA), formed by Rainbow Hospitals and AddressHealth, to increase engagement with children of school-going age, to increase awareness about health issues, improve access to quality tertiary healthcare, promote healthy behaviours and early identification and treatment of the 3Ds (Disease, Defects, Deficiencies).
One of the major problems faced by children in Bengaluru is obesity (9%) or being overweight (12.7%). The doctors attributed this to a lack of balanced diet (too many calories). The doctors also underlined that despite directions from the authorities to ban junk food on campuses, children were still reaching out to such foods. The doctors also found that most of the kids have little or no physical activity, more so due to the increased mobile/ TV viewing. Continuous staring at TV/mobiles screen at a fixed depth or distance has also lead to 15.2% children having vision problems. All of these issues are enhancing the risk of lifestyle diseases in these children.
"This alliance will ensure prompt treatment and corrective action by covering about 50 schools in Bengaluru and reaching to around 40,000 children," said Dr Anand Lakshman, Founder & CEO, AddressHealth.
Excessive junk food also causes dental caries which is the most neglected chronic disease of childhood, experts said. The study found that 29.9% of children have dental caries. The misconception is that all teeth of children are milk teeth and they will fall eventually, so there is no need to seek treatment. But dental caries adversely affects eating habits and clear speech.
Neeraj Lal, Vice-President & Cluster Head, Rainbow Children's Hospitals Bengaluru, said, "There is a need for health cards for all schoolchildren, like progress cards, to treat children with special disorders at optimum cost and ensuring healthy children for a healthy India".