Hugs might help avoid bad moods after disagreements
DECCAN CHRONICLE | DC Correspondent
Published on: November 11, 2018 | Updated on: November 11, 2018
---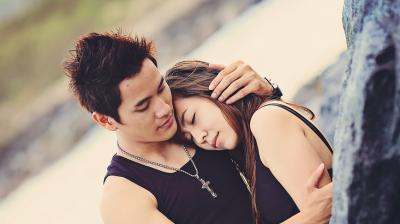 People who get hugs are less likely to experience a bad mood after a disagreement than those who don't receive this kind of affection, a small study suggests.
While close personal touch and meaningful social interactions with other people have long been linked to better physical and mental health, much of this research has focused on romantic or family relationships, researchers note in the online journal PLOS ONE.
The current study focused on adults who were typically not married or in long-term committed relationships, and still found a link between simple touch - hugs - and better moods after people experienced conflict.
For the study, researchers interviewed 404 men and women every night for two weeks about a wide range of activities and interactions they had experienced during the day as well as any positive or negative moods. Just 98 of the participants were married or in what they described as "marriage-like" relationships.
When people experienced conflicts, they noted a smaller decrease in positive emotions and a smaller increase in negative feelings when they had also received one or more hugs that day, the study found.
"We were not surprised to find that people who reported receiving a hug appeared to be protected against poorer moods related to experiencing conflict," said lead study author Michael Murphy of Carnegie Mellon University in Pittsburgh, Pennsylvania.
"This finding is consistent with multiple emerging lines of evidence demonstrating the ability of touch-behaviors within close relationships to reduce perceptions of threat and increase feelings of security and wellbeing," Murphy said by email. "We were, however, at least somewhat surprised to find that there were no detectable differences between women and men in our study in the extent to which hugs protected against conflict-related negative mood."
Overall, participants reported experiencing conflicts on an average of two days during the study; they reported receiving hugs, on average, on almost nine days.
On any given day, about 10 percent of participants experienced conflict and also received a hug, the study found. About 4 percent of participants on any given day experienced conflict but didn't get a hug.
Marital status didn't appear to influence the connection between hugs and mood. Neither did the amount of social support people perceived in relationships with others.
Although the connection between hugs and mood also looked similar for men and women, women did report more days of conflict and more days of hugs than men.
The study wasn't a controlled experiment designed to prove whether or how hugs might directly impact mood.
However, social interaction and touch have long been linked to changes in the brain that can have a positive impact on physical and mental health, noted Dr. Guohua Li, director of the Center for Injury Epidemiology and Prevention at Columbia University in New York City.
"There are multiple plausible mechanisms that may help explain the observed benefits of hugs in reducing conflict-related negative moods, including perceptual, psychological and neurobiological pathways," Li, who wasn't involved in the study, said by email.
"It is well known that social interaction and engagement is essential to the long-term survival of all social animals from ants to chimpanzees and is beneficial to mental and physical health for children and older adults," Li said.
"For infants, gentle and kind personal touch, dubbed as 'kangaroo care' is found to have strong therapeutic effects and facilitate positive neurodevelopmental and behavioral outcomes," Li added. "This study indicates that the health benefits of social interaction and engagement, in the form of hugs, also apply to young and middle-aged adults."