Eating full English breakfast during pregnancy may boost babies' IQ, says study
DECCAN CHRONICLE | DC Correspondent
Published on: January 6, 2018 | Updated on: January 6, 2018
---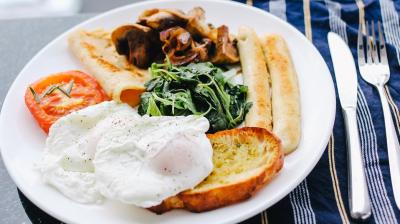 A new study now finds that eating a full English breakfast during pregnancy can boost babies' IQ, researchers found.
According to the researchers, Bacon and eggs are rich in the nutrient choline.
The study that was conducted on more than two dozen infants found that mums who consumed more choline during the last three months of their terms performed better in tests.
In particular there was a dramatic improvement in information processing speed, one of the key signs of intelligence.
Scientists had already made the link in mice, but they have now proved it in humans. Prof Marie Caudill, of Cornell University, New York, said guidelines for choline consumption should be increased.
According to Caudill, "This single nutrient has lifelong benefits."
However, the great British fry-up is not normally associated with good health but egg yolks and lean red meat, such as some bacon, are rich in choline. Furthermore, it is also found in fish, chicken, milk, nuts and green veg like broccoli.
Choline is vital in pregnancy but many eat less than the recommended 450mg a day because eggs and meat are linked with high cholesterol and fat.