Israeli poet heals you with her verses
DECCAN CHRONICLE | DC Correspondent
Published on: November 17, 2017 | Updated on: November 17, 2017
---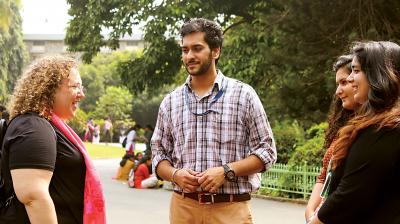 BENGALURU: Israeli bilingual poet Gili Haimovich is known for her techniques in using poetry and other arts towards Expressive Arts Therapy for her work in mental health centres, hostels and other places.
In a chat with DC, the Hebrew-English poet described how poetry is being used as a vehicle which encourages people to express themselves in ways they would not have done otherwise.
"The only intention when I started using poetry for therapeutic purpose was to remind holocaust survivors (those who survived the concentration camps set up by Nazi Germany to exterminate the Jews) of the fact that they were human and still had a chance to move on," remembers Ms Haimovich from her practical work done at a mental health centre, while at college, which later made her realise her affinity towards practicing it further in more perspectives.
Also a translator, Haimovich has won national and international laurels and has been nominated by the Ministry of Absorption, Israel as an outstanding artist in 2015. She defines poetry as an individualised way of using the language. "Poetry is not about writing a best-seller, much attention is given to preciseness and to keep things closer to their primary form and hence accuracy is emphasised," she said. The ability of poems to provide different meanings to different individuals helping each to connect in different ways is something that can be tackled in different ways, she felt.
Earlier the day, she interacted with the students of Counselling Psychology and Theatre & Performing Arts at Christ University in the city. After two separate reading and appreciation sessions, Haimovich felt that Indian students need to be encouraged to be 'outspoken' for which she is known for.
"Youngsters, especially women, should be encouraged to fight against gender suppressions making their way towards safety in any environment," she said.
Haimovich, who is also a teacher, alluded that depicting an example of something creates more impact than teaching the younger generations how to go about a particular subject or a situation.