Crime Patrol, longest-running crime series on Indian TV, is now a book
DECCAN CHRONICLE | DC Correspondent
Published on: December 8, 2018 | Updated on: December 8, 2018
---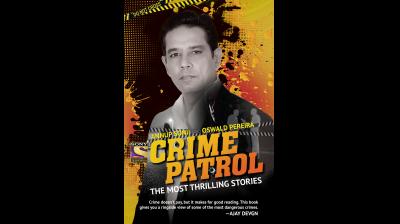 Delhi: Westland Publishing is all set to release a book based on the longest-running crime series on Indian television—Crime Patrol: The Most Thrilling Stories by Annup Sonii and Oswald Pereira.
Actor Ajay Devgn endorsed the book saying, "Crime doesn't pay, but it makes for good reading. This book gives you a ringside view of some of the most dangerous crimes."
Slated to hit the stands on 11 December 2018, the book has spine-chilling stories that dissects the anatomy of crime, delving deep into the psyche of the criminal mind, even as they are unravelled by crack police teams.
Commenting on why he wrote the book, Annup Sonii said, "For those who are misguided, crime is thrilling. Little do they know that it has grave consequences both for the victim/s and the perpetrators."
He further added, "There are many deterrents, like the police force which does a remarkable job in putting such monsters behind bars, but we as citizens need to be vigilant and do our duty in keeping society safe. This is a book which lists some of the most heinous crimes and directs each one of us to keep away from crimes and also falling victim to it."
Edgy, candid and wonderfully woven, 'Crime Patrol: The Most Thrilling Stories' covers true crime stories in India's small towns than just focusing on big metros, and reminds readers that signs which may appear as most ordinary at times, could turn out into heinous crimes.
With Annup Sonii's high-octane narrative and Oswald Pereira's excellent research and writing, this book makes for the perfect nail-biting, edge-of-the-seat reading.
Speaking about the book, Oswald Pereira said, "This book makes people aware of the dangers and the futility of crime, and highlights how the police work round-the-clock in investigating crime, using all their skills and resources in bringing the culprits into the police net."
He also went on to add, "My experience as a journalist who had written on crime for several years, helped me in adding a touch of reality to the stories and characters and showing how tough the police's job is and their tenacity in solving seemingly mysterious cases, despite the many odds that they face."