Book review: Voice of the Runes by Manjiri Prabhu, chilling tale of love and deceit
DECCAN CHRONICLE | Soumyabrata Gupta
Published on: December 8, 2018 | Updated on: December 8, 2018
---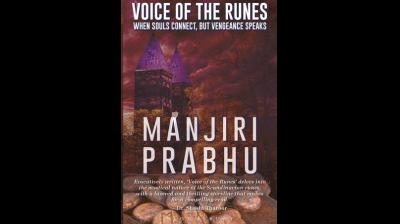 Continuing with the adventures of journalist Re Parkar, Manjiri Prabhu's new thriller sees the protagonist's alma mater, Lund University of Sweden calling him back for their 350th year celebrations.
An honorary invitee, Re Parker is however, swept into a torrent of mystery and intrigue when the HOD of the rune department Prof Heinz drops dead while giving his welcome speech during the celebrations.
It turns out his runes were poisoned.
What follows is a tale of both passion and deception as Parker, along with Prof Heinz's assistant Magdalena Lindberg set out on a trail to find out the reason behind the mysterious death of the professor and the Ragnarok, he had hinted at before dying.
Runes play an integral role in Prabhu's telling with Nordic symbols becoming one of the major catalysts in helping move the plot forward.
However, all is not what it seems. While the professor had hinted at the mythic Ragnarok before his demise, and others too soon start dying, the mystery behind the perpetrator gets murkier with every passing clue, and demise.
Prabhu's book, though, occasionally tedious, manages to portray a stark picture of the mystery that surrounds the Nordic runes and the many interpretations they offer.
Set as both a mystery and a romance, the book sees Lindberg battling with her emotions as she sets out to help Parker in finding the person or persons behind the crimes being committed in the university.
Voices of the Runes is an interesting read, which will compel readers to turn the pages as undercurrents of violence keeps them rooted for the protagonist, all the while skeletons keep tumbling out from hidden closets. The author very cleverly captures the readers' imagination all the while dropping hints at what maybe that what everything really appears to be.