Sunday story: Kundagol, where a musical treat awaits the connoisseur
DECCAN CHRONICLE | vittal shastri
Published on: September 3, 2017 | Updated on: September 3, 2017
---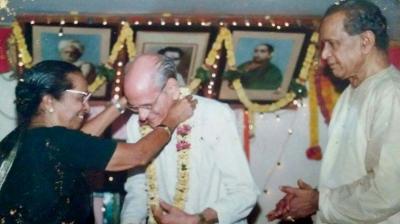 Once considered the hub of Hindustani classical music, Dharwad, cultural capital of North Karnataka, has witnessed considerable decline over the past few decades. Many concert halls have gone beyond the reach of singers who are keen to present their performances, due to high rent. Musicians fear that commercialisation is casting a long shadow over classical music with reality shows jeopardizing the traditional music world. Standing apart is Kundagol, which has created a niche for itself even as the old world falls apart. Vittal Shastri explores the renewed interest in classical music in the little town 21 km from Hubballi
Organisers of classical music events who contend that classical singers lack a proper platform to exhibit their talent, could learn a lesson or two from Kundagol, where Hindustani music has been witnessing tremendous growth with a rise in audiences. In fact Kundagol has become a pilgrimage centre for Hindustani classical musicians across the country over the years. Different ragas reverberate in the town where several legends like Bharata Ratna Pandit Bhimsen Joshi and Padma Vibhushan Dr Gangubai Hangal have left their indelible mark in the world of Kirana Gharana.
Thousands of music lovers from remote villages rush to the town in tractors and bullock-carts to listen to classical concerts attentively. One of the events which draws large crowds is the 48-hour long day-night concert to pay tribute to Pandit Sawai Gandharva which is held in September every year. Eminent Indian classical singers keep music lovers spellbound with their rich and resilient voices at the annual music festival.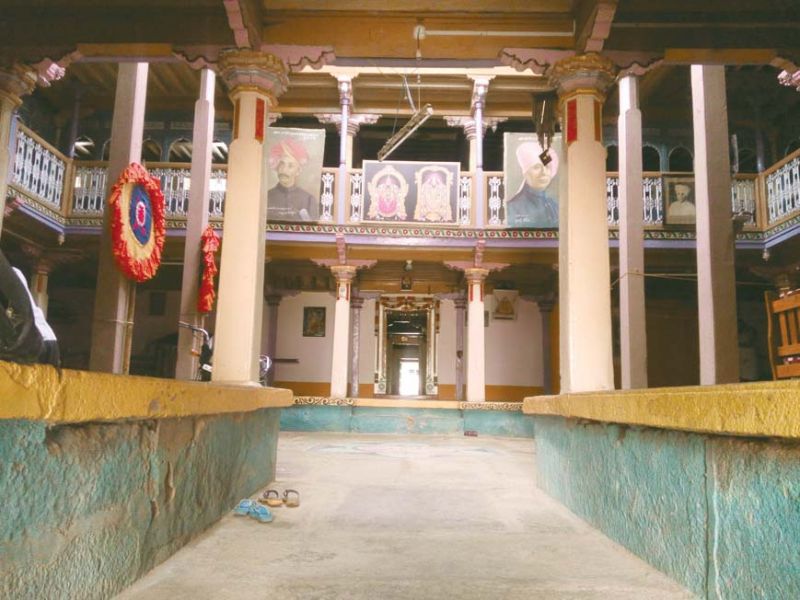 The famous Nadgir Wada where the music concert is held
Surprisingly, Kundagol has just a 30,000 population, most of them are agriculturists and yet becomes the nerve-centre of Hindustani music activities in September as hundreds of disciples of Sawai Gandharva converge to pay tributes their teacher on the occasion of his death anniversary. Every street in the town wears a festive look and will be decorated with banners and buntings to welcome the eminent singers and listeners. All business establishment will also be kept open throughout the night.
Visiting Kundagol has been a matter of pride for renowned musicians from North India who can share their music experiences with the legendary musicians who studied in the town. They also feel that performing a music concert in the town will give them prestige and also bolster their image. The little town has been hosting music festival since 65 years to preserve and disseminate traditional music. More than hundred members of Sawai Gandharva Vishwastha Samsthe Trust, most of them farmers, contribute funds to hold the two-day music extravaganza. Even a fourth consecutive drought this year has not dampened their spirit.
Sitting at a shanty tea shop, elderly people in the town recollect fond memories of Pandit Bhimsen Joshi who studied music under Sawai Gandharva in the town on Madhukari meal system in which poor disciples eat in different households everyday due to lack of financial support. They discuss passionately how the music legend used to accompany Dr Gangubai Hangal upto the local railway station during his childhood by holding a lantern in the night while she was returning to Hubballi every day after learning music in the absence of power connections in the town. People here have preserved the pond and wells from where Pandit Joshi used to draw water and wash clothes for his teacher and the landlord when the town was reeling from a shortage of drinking water.
Kundagol is known as Sangeetha Kashi as several music legends like Ustad Bale Khan, Firoz Dastur, Prabha Atre, Basavaraj Rajguru, Mallikarjun Mansur have performed concerts in the town. More than forty vocalists render a 48-hour non-stop classical music performance during the annual fest.
Interestingly, Kundagol is the only venue where free food and accommodation is provided to all musicians and listeners arriving from various parts of the country. Moreover, the artistes do not seek remuneration except for their train fare. "Musicians consider it an honour to perform in Kundagol as many of them rose to fame after a visit to this town. My father and former minister Mahadevappa Katagi was a childhood friend of Pandit Bhimsen Joshi, they grew up together in the town. Gangubai was Akka (elder sister) to Joshi, they studied music together here. Panditji had performed the Danda Samarambh (a tribute to the guru once the training is complete) on the death anniversary of Sawai Gandharva several decades after he parted ways with him", recalled Aravind Katagi, the chairman of Sawai Gandharva Smaraka Vishwastha Samsthe Trust which has been organising the fest by spending more than Rs 15 lakh every year.
Landlord Nanasaheb Nadgir was known for patronizing Hindustani music in the town during the early 19th century. He used to invite all citizens for the music concert by providing free food and other facilities to them. Those were the days when there was a flurry of visits by musicians to Karnataka from Agra, Gwalior and other towns in the north to perform in the court of the Mysuru Maharajas. These musicians used to stay in the town for weeks on their way to attend month-long music concerts during Dasara celebrations as the region has been a gateway to the Mumbai-Karnataka region.
Late Ustad Abdul Karim Khan also used to visit the town and taught Hindustani classical music to Pandit Sawai Gandharva by taking shelter at the house of the landlord. But, the situation has undergone a sea change with the transition from Rajashraya to Janashraya (from royal patronage to dependence on people). Generating financial resources proved to be a challenging task for the organisers of music concerts with limited listeners in adjacent Hubballi-Dharwad twin cities. But, Kundagol town continues to preserve the rich legacy of renowned stalwarts with the day and night music concert every year. The venue of the concert has been shifted to the newly built state-of-art auditorium from Nadgir Wada, which is a 400-year old beautiful palatial bungalow built in traditional style, to accommodate the increasing audiences every year.
"We are holding the annual music fest on September 14 and 15 to observe the 65th death anniversary of Pandit Sawai Gandharwa. A large number of listeners arrive from various parts of Karnataka and neighbouring states. Even illiterate and poor farmers from remote villages in the taluk have developed a penchant for identifying complex ragas by paying close attention to the classical songs which is challenging to even music students", said 60-year old Hindustani vocalist Ashok Nadgir.
The descendants of landlord Nanasaheb Nadgir family have been conducting overnight music concerts in his memory along with the two day music fest being organised by the Trust. The landlord was more interested in Bhajans and devotional songs. More than 25 Bhajan Mandals comprising thousands of youth stand testimony to how Indian traditional music has become so deep rooted in the history and tradition of Kundagol town.
Kundagol is also considered a centre of communal harmony as the 18th century philosopher and social reformer Shishunala Sharif, who is recognized as the first Muslim poet of Kannada literature, was associated with the town from where his wife hailed. His composition of Tatvapada (moral poems) is still popular in the region. The saint musician Panchakshari Gawai, a blind singer and great musician who was well versed in both Hindustani and Carnatic traditions, has contributed immensely to the growth of classical music in the town.