Year ender 2017: Controversies of the year
DECCAN CHRONICLE | DC Correspondent
Published on: December 29, 2017 | Updated on: December 29, 2017
---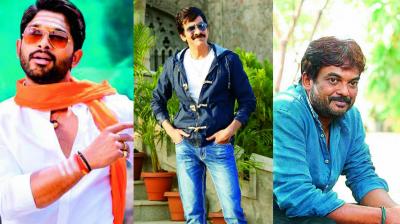 Despite many big blockbusters, successful comebacks and National Awards, the Telugu film industry was dominated by the drugs scandal where several top celebrities were questioned by a Special Investigation Team. The other big controversy that rocked the industry was the Nandi Awards announced by the Andhra Pradesh Government which was heavily criticised.
Named and shamed
The Special Investigation Team (SIT) from the Excise Department led by Akun Sabharwal gave notices to and questioned 13 Tollywood personalities, including Puri Jagannadh, Ravi Teja, Tarun, Charmme, Navdeep and others. While rumours suggested the involvement of industry bigwigs, there were no arrests or cases filed against any of the celebs.
Controversies galore
Allu Arjun-starrer Duvvada Jagannatham ran into rough weather for using words like Namakam Chamakam in a song which the Brahmin community objected to. Producer Dil Raju was forced to bow down and replace the objectionable words from the song. However, the film's troubles didn't end there. Post-release, it was alleged that the makers showed falsified high box-office collections, further fuelled by the reactions of director Harish Shankar and lead actor Allu Arjun.
At the pre-release event of the film Arjun Reddy, the lead actor criticised the Censor Board for asking the makers to mute a few words in the film. Following that, Congress leader V. Hanumantha Rao tore the film's posters from RTC buses, criticising the filmmakers for showing a poster with a kissing scene on a government bus. To which Vijay cockily replied, 'Chill thatha'.
Hanumantha Rao's objections to the film fell on deaf ears as with each passing day the film's colelctions were greater.

Balakrishna's slapgate
Actor-turned-politician Balakrishna never fails to make news for the not-so-right reasons too. On the opening day of his film Jai Simha, the actor slapped an assistant, and the incident was captured on a video which went viral. The actor was also seen asking him to tie his shoelaces! Despite public outrage, the actor was least apologetic!
Nandi becomes 'Kamma' awards!
The Andhra Pradesh Government announced the Nandi Awards for three consecutive years — 2014, 2015 and 2016. However, industry folks were critical of the jury and the way they chose the award winners, with some of the filmmakers openly calling them the 'Kamma Awards' as the majority of the winners were from one particular community.