Plots of love
DECCAN CHRONICLE | suresh kavirayani
Published on: July 25, 2019 | Updated on: July 25, 2019
---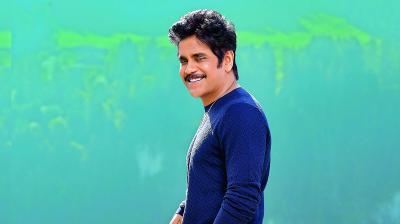 Actor Nagarjuna is gearing up for his upcoming film, Manmadhudu 2. The trailer has been released on Thursday, and the actor clarifies that the film is not a sequel to his earlier film Manmadhudu. "Both belong to the same genre — romantic comedy — and I'd played the lead in that film too, so I just found it convenient to use the same title," elaborates the actor, adding that the content and characters in the upcoming film, however, are completely different.
Given the number of kissing scenes getting their moments of fame under the arc lights, we are tempted to ask the actor about the kissing scenes in the teasers of this film. "The 1989-film, Geethanjali had a two-and-half minute kissing scene. Now I am more matured and also got more experience," the actor jokes, with a chuckle.
The French connection
There have been reports floating around that the film was copied, but Nag reveals that Manmadhudu 2 is an adaptation of a French film. "I had watched the French film about a year and half year ago. Immediately, I wrote to the producers, Studio Canal. Thereon, we wrote a complete new story to suit the Telugu nativities," clarified Nag, adding that he never copies.
Emphasising the ethics involved in the project, the actor went on to add how director Rahul Ravindran, who was approached to direct this film, also first asked to see the remake rights certificate. I
"I liked his openness when he asked me to show the certificate. I showed it to him, too. Then only he took on the project," says Nag.
Playing boss
The actor then talked to us about Bigg Boss 3, which he hosts. "It's a good experience for me. When I did the show Meelo Evaru Koteeswarudu, I was confined to the chair mostly, but in this show, I can do some walking," says Nag. But what about the controversy plaguing the show this season, we want to know, and he assures us that he's been maintaining distance from the controversies right from the beginning.
"The show has been running in 13 countries, with 12 seasons in Hindi, 2 seasons in Kannada, 4 in Malayalam and 3 in Tamil. This is the third season in Telugu. So, I don't know where these controversies are coming from. But I am confident that the High Court and the Telangana Police will conduct a proper investigation into the matter. If they find anything wrong, I hope the wrongdoers are punished," he says as he signs off.