Classical collective
DECCAN CHRONICLE | Puneet Kaur
Published on: May 27, 2019 | Updated on: May 27, 2019
---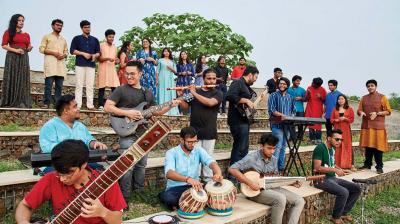 Meet Anirudh Varma, the music director of Anirudh Varma Collective and an artist who hails from New Delhi. Anirudh started working on his first album way back 2016 while pursuing his Masters at the Ambedkar University.
Anirudh brings in his own style of harmonic approach of Western music with Hindustani classical music. The collective is a collaboration of over 60 musicians all coming from the different parts of the country – from professionals to students of Delhi University.
Every artiste has contributed in to the making of the collective that has led to an album which is a combination of four tracks.
Anirudh recalls, "The main purpose of the collective was to bring in the unique elements and textures of the different artists, I asked them to listen to the compositions first and react to the music naturally." He talks about how he was inspired by his grandfather, who was a trained Hindustani classical vocalist and under his influence he started learning the keyboard at an early age and composed his first music piece when he was only seven years old.
"As I grew up, I started listening to many artists and different bands but it was Advaita – an Indian fusion band – which impacted me. I was deeply influenced by their music. They combined Indian classical music with Western classical music"
The idea of producing fusion music emerged when Anirudh joined the Music Society of Hansraj College – Swaranjali . He met and worked with many talented musicians. "I became more familiar with Indian classical music when I started playing keyboard with Indian classical choirs at various music fests and competitions all around Delhi University. I was told by my First President of Swaranjali to play like I do and remain organic. Coming from a Western classical background, I had a harmonic approach, which was the polar opposite to the melodic approach of the Indian classical music. I usually played different sets of chords for different ragas and slowly started getting in touch with the emotional depths of the Indian classical music."
During his Masters while working on a research paper he composed his first track, Colours of Jhinjothi, in 2016. He worked with only four people at that time and that track's release led to the emergence of the Anirudh Varma Collective. For the second track, Maru Bihag, eminent Hindustani vocalist, Pandit Sarathi Chatterjee lent his voice. This track is a contemporary yet delicate expression and interpretation of the Raga Maru Bihag. The third track – Tilak Kamod, is dedicated to Anirudh's paternal grandfather – SN Varma. The last track Shankara, an ode to Lord Shiva is the soul of the album. Prateek Narsimha the lead Hindustani vocalist of this track explains, "Back in 2013, our last year in the college, after a music rehearsal, Anirudh and I randomly started jamming on the Raga Shankara. He played some chords and I sang one Bandish. This led us to make it into a full-fledged composition and this is where it all began." Prateek started learning Indian classical music when he was three years old and has been an important part of the collective.
For the collective choir, best vocalists were selected from colleges in Delhi University.
The launch of the first album of the collective was celebrated at The Indian Habitat Center, where Anirudh had his first piano recital as a child artiste. On August 1, 2018 over 30 musicians performed live. Apart from doing concerts, Anirudh Varma Collective has organised many music workshops and masterclasses for the music societies of Delhi University.