Seven colours of music
DECCAN CHRONICLE | priya sreekumar
Published on: May 21, 2019 | Updated on: May 22, 2019
---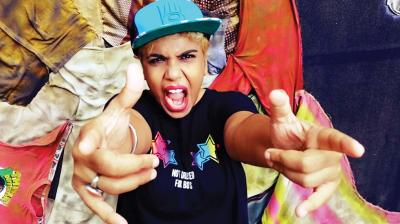 A new age of queer pop has already taken over the West. Artists want to talk sans any veils of coyness and expressions of queer identities in popular music have evolved dramatically over the past years. So, when Section 377 of the Indian Penal Code was overturned, Mumbai-based Pragya Pallavi, independent queer singer/songwriter, musician, percussionist and performer, was more than happy. She decided to commemorate India's legalisation of LGBTQ sex with her new album Queerism. This is the first openly gay album to come out in India, and features nine tracks with songs in English and Hindi. Her compositions combine diverse influences such as EDM, R&B, jazz, hip-hop, disco, acoustic, alternative rock, fusion, as well as Indian classical music, Sufi music and folk music.
Like the name suggests, Queerism is a collection of songs highlighting the rainbow hues in pop culture and of being queer in the modern age. But that is not all there is to the album. Pragya wants her music to reflect issues that are important to her and her identity. She has been working on Queerism for almost two and a half years. "I always wanted to write something which was substantial, about the moment and my experiences as a queer person. All the songs in the album are unapologetically queer, but my album has political content and looks at topics like global warming, religion, caste, sexism, suicide, to which I lost a few of my friends, and woman empowerment, which is very important to me," she explains, adding that she did not want her music to reflect only the roadblocks and struggles that the LGBTQIA+ community faces, but also highlight the various other problems that the world at large is facing. She feels most of the popular, mainstream music today avoids social issues, which she wanted to throw light on through Queerism.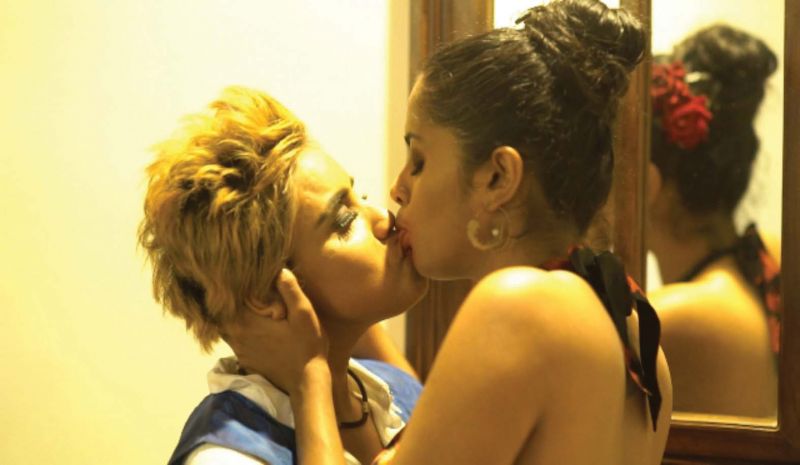 A still from Lingering Wine
The nine songs featured in the album are Lingering Wine, Girls You Rule, Izzat De, Mama I Need You, Queer it up, We are LGBTQI (Queer Moombahton) We are LGBTQI (Pride Anthem), Rain Rain Go Away and Orange Sun. Incidentally, We are LGBTQI has two versions — one (moombahton genre track) created before the Supreme Court judgment and the other, after it.
Taking us into the genre of the album and its nine songs, Pragya explains that Lingering Wine is sensual and soulful. Girls You Rule and Izzat De have punchy beats and fusion music. Mama I Need You incorporates a blend of reggae ton-style drums and Carnatic style violin riffs. But it is Queer It Up and We Are LGBTQI that have the euphoria of heavy bass beats and dance rhythms. Rain Rain Go Away has Pragya's strong vocals that ooze passion and emotion and Orange Sun is an emotive lyrical cry asking a lover to stay.
Pragya likes to describe herself as a gender fluid lesbian —a term she elaborates as, "Gender fluid because I don't want to be put into any box just like my music genre. Being boxed is crazy! Lesbian because I am a woman and I love women and I feel it is a very intricate identity."
Pragya was born in Patna into a family that was inclined to music. "My grandmother was an AIR performer and music teacher and my dad used to sing. In that artistic environment, I got an opportunity to learn Hindustani classical music and Kathak. I count myself lucky to have grown up in an environment with a freedom to create," she says.
Coming out was not an easy process for Pragya when she did in 2011. She remarks, "It was not without pain which I am sure is the case with anyone wanting to come out anywhere in the world, especially in India which is still rooted in traditions and customs." It was her ex-girlfriend who wrote an email to her father and spilt the beans about her sexual orientation. Her father came to terms with her orientation soon, but it was not the case with her mother and grandmother, who went through varied emotions —all not happy. "I even thought of running away from home, but finally, one day my grandmother told me that she did not care who I was and that as long as I was her granddaughter, she would accept and love me!" Soon, her mother, too, capitulated. Pragya mentions that a lot of her friends unfriended and blocked her and stopped talking to her —a very rough period for her.
Her coming out affected Pragya professionally, too. She started losing out on DJ gigs. "Even before I came out, I was dressing vey gender neutrally and the organisers expected me to dress a certain way, read 'hot' which I was not doing. After I came out, I lost more gig opportunities and that was another dark period," she recalls. It was not only the adults who targeted her, but even kids who would mock her enquiring if she was a male or a female? She now does not trust easily given the way she was shunned that left her shocked and pained. Yes, life has not been easy — a struggle the community still faces —but Pragya does not want her bad memories to pull her back or down.
Currently, Pragya is in a very happy space. Her music and songs have been well received. She has worked with a good team of lyricists, co-writers, sound mixing engineers and mixers. Before signing off, she staunchly says, "I did not give up on trying, but kept on moving forward, which is important."