Aniyankunjum Thannalayath movie review: Aniyankunj fails to impress
DECCAN CHRONICLE | Gokul m.g
Published on: August 30, 2019 | Updated on: August 30, 2019
---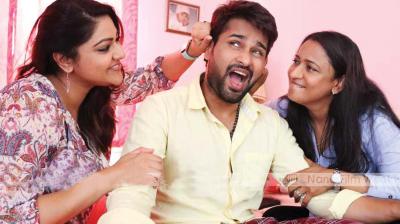 Director: Rajeev Nath
Cast: Nandhu, Renji Panicker, Bhagyalakshmi,Abhirami, Maathu
National Award-winning director Rajeevnath's latest film Aniyankunjum Thannalayath is about a village guy who, due to some personal issues, moves to the U.S. Aniyankunju is a good at heart, simpleton guy who is the Youth Congress acting area committee president at Paika. A guy who goes to any extend to help his friends, he finances a short film that is directed by his friend. But fate has something else in store for him as he gets trapped in an issue. His guardians send him to his sisters who are settled in the U.S. Will he be able to find success there?
From Paika to Washington DC, the film chronicles the journey of Aniyankunju (Kiaan). After his parents' tragic death, Aniyankunju has lived with his father's brother and his wife. From his uncle, he learns the basics of ayurveda and kalarippayattu. But his interest in politics keeps him away from them. Aniyankunju's life takes an unexpected turn when he had to fly to his sisters in Washington and what awaits him there is a hard time. Though his sisters and in-laws are caring, his homesickness pulls him back and he fails to cope with the fast life there. But he gets an opportunity to prove his mettle and grabs spotlight by helping an athlete during the time of an ailment, thanks to his uncle and his kalari classes. What follows is the twist in his life.
The film, which has Kiaan Kishore playing the male lead Aniyankunju, has been shot mostly in the U.S. It also stars Nandhu, Renji Panicker, Bhagyalakshmi, Abhirami, Geetha and Indrans. The surprising name in the cast is actress Mathu, who makes a comeback to cinema after 19 years.
Despite a strong line-up in the cast and crew, the film fails to impress. The story is predictable and has nothing special about it. Lead actor Kiaan's character is neither convincing nor strong, but he has performed really well. At one point, the story describes him as an expert in kalarippayattu, but in another scene he gets easily injured while cutting the grass and curses his plight. And it goes on and on with a sad BGM that only makes the audience bored. Even his journey to the U.S. seems very 'easy' when you consider the political aspects of migration to the country. He gets the visa easily and other formalities get completed in no time, which seems very unrealistic. The story is also drab and gets stuck at times. Mathu has done a decent job on her comeback, though there's hardly any challenge for her in it. The other actors including Nandhu, Renji Panicker, Bhagyalakshmi, Abhirami, Geetha and Indrans did justice to their roles. Rajeevnath's filmography, including a national award, will not help you in liking this film.