Pattabhiraman movie review: Relevant topic, poor execution
DECCAN CHRONICLE | Gokul m.g
Published on: August 24, 2019 | Updated on: August 24, 2019
---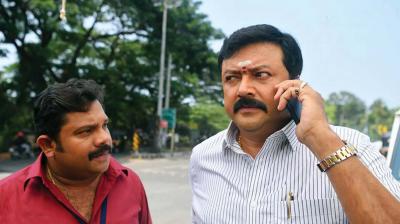 Director: Kannan Thamarakulam
Cast: Jayram, Sheelu Abraham, Miya, Baiju, Dharmajan, Hareesh Kanaran
Food adulteration is a major problem faced by today's society. Kannan Thamarakulam's new flick Pattabhiraman talks about a war waged by Food Inspector Pattabhiraman against the perpetrators of food adulteration on mass level. However, things go wrong and his personal life gets in danger.
Played by Jayaram, Pattabhiraman is the hero we need at the moment. After getting a transfer to the capital city, Pattabhiraman vows to nab the people behind food adulteration. But some of his colleagues, Valsan (Baiju), Shukoor (Hareesh Kanaran) and Suni (Dharmajan), are not happy with his strict policies and plan to get him in their circle.
The movie makes another shift as a food chain business magnet locks horns with Pattabhiraman and then come some unexpected twists in the story. In a nutshell, the story looks good, but when you analyse each part, the movie fails to impress or trigger anything in audiences' minds.
In the first half, it offers some moments to laugh. Then it loses track and fails to convince the viewers. The story line is so predictable and has nothing new to offer throughout the second half of the movie.
Socially relevant stories should leave the audience with an impact but here, Pattabhiraman hardly makes any. It is not sure if one would be quite affected or inspired by the message that it gives after the end credits.
The cast including Jayaram has nothing special to do in it due to the dull narration. The other actors are Sheelu Abraham, Miya, Prem Kumar, and Janardhanan. Though the movie talks about a very important and socially relevant topic, execution has failed.