Evaru movie review: A gripping thriller!
DECCAN CHRONICLE | suresh kavirayani
Published on: August 15, 2019 | Updated on: August 15, 2019
---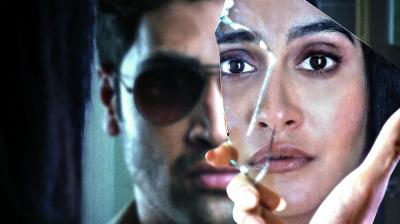 Director: Venkat Ramji
Cast: Adivi Sesh, Regina Cassandra, Naveen Chandra, Murali Sharma, Pavitra Lokesh, Raja Ravindra and others
One of the finest actors in the industry today, Adivi Sesh's films are known for being a cut apart from the regular formulaic ones. This time around, he joins hands with debutant director Venkat Ramji for Evaru, an adaptation of the Spanish film, The Invisible Guest.
Plot: The film starts in Coonoor where the police arrest Sameera (Regina Cassandra), the wife of a businessman, after she is accused of murdering DSP Ashok Krishna (Naveen Chandra). In the media brief, she claims that Ashok tried to rape her, and that she killed him in self-defence. Meanwhile, a corrupt police officer, Vikram Vasudev (Adivi Sesh) approaches her and asks her to come clean. She continues to maintain the same stand, but Vikram confronts her with a few proofs and raises doubts over her story. Meanwhile, a missing case comes to light and the story turns unpredictable. Who killed Ashok, what actually happened and how a family suffers because of another person's bad decision forms the crux of the story.
Direction: Evaru marks the directorial debut of Venkat Ramji, who has adapted the film's story from a Spanish film titled Contratiempo (The Invisible Guest). However, instead of merely copying the film from its original, he has made several changes, retaining only the plot. Ramji's direction makes the story gripping and completely unpredictable. While on the surface, it appears that Sameera has murdered Ashok, the real story unfolds with a series of flashbacks.
Interestingly, the same film has already been made in Hindi as Badla starring Amitabh Bachchan and Taapsee Pannu. But the Telugu version is completely different and gripping right till the end.
Cast and Crew: Adivi Sesh once again puts in a superb performance. His character has two shades and only he could have done full justice to the role. Regina Cassandra is terrific as Sameera and lives her character, possibly making it her best performance till date. Naveen Chandra plays an important role in the film as Regina's boyfriend while Murali Sharma, Pavitra Lokesh and others support the main cast well.
Sricharan Pakala's background music is one of the film's highlights, and he manages to elevate the mood with his music. The cinematography is excellent and the film shows high technical values. The narration is quick without any forced or unwanted scenes, surprisingly making the length of the film below two hours.
Evaru is a great adaptation of the Spanish original. Unlike the Hindi version which was a mere copy, the Telugu version is different and full credit goes to director Ramji for his gripping narration. Adivi Sesh and Regina's stunning performances hold one's interest till the end. Evaru definitely deserves a watch and does not disappoint.