Ambili movie review: Love personified
DECCAN CHRONICLE | elizabeth thomas
Published on: August 9, 2019 | Updated on: August 9, 2019
---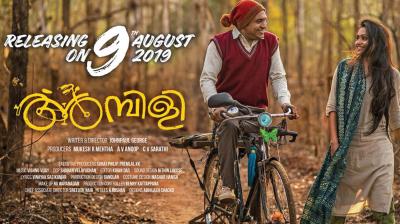 Director: John Paul George
Cast: Soubin Shahir, Naveen Nazim, Tanvi Ram, Jaffer Idukki
The movie Ambili can be summed up in one word – love. It is the journey of Ambili (Soubin Shahir), a dynamic, childlike person, who is an epitome of love.
He behaves different. Although he selflessly loves everyone around, people exploit his weakness. However, Ambili loves all. He easily forgets their wrongdoings; sometimes, he fails to understand the traps.
Written and directed by Guppy-fame John Paul George, Ambili lets viewers delve deep into the psyche of such people who must have crossed our paths at some point, with a strong and emotional thread, scenic visuals, peppy and melodious music and stunning frames. One has to really appreciate the director's courage to attempt such a story that could have gone astray or felt exaggerated. John has carefully and painstakingly put together the story and the characters, especially Ambili, with right mix of dialogues and emotions. Only during the first leg of the second half the narrative lags a bit, because Ambili is missing from the screen then. The moment he returns, the movie resumes its pace, showing the character's impact.
Soubin is outstanding as Ambili. He lives as the character, and is meticulous about the way the character talks, walks, dances and even spreads his fingers during excitement. His eyes beautifully convey to the audience Ambili's happiness, sorrows and longings. One will not leave the theatre without shedding a tear. At no point, Soubin looks artificial or annoying. It is, for sure, one of the best portrayals in his career.
For Naveen Nazim, the character Bobby is a grand debut. He has enough screen space to establish himself. He looks good on screen, tried to show justice to his role, but at times lacks soul in dialogue delivery. Tanvi Ram appears as Tina, Ambili's love interest. After Ambili, it is Bobby and Tina who steal the show. Nina Kurup, Vettukkili Prakash and Jaffer Idukki too appear in prominent roles.
Set mostly in high range, Ambili has a cheerful colourtone. Since it is a road movie, the landscape keeps changing, providing a visual treat to the audience. The cinematographer has captured the locations in their essence. Another highlight is Vishnu Vijay's music and the signature Njan Jackson allada.. dance sequence that resonate Ambili's mind. In a few scenes in the second half, John turns a tad philosophical. But, even without that we can comprehend Ambili and Bobby's emotional, eye-opening journey.
In brief, the two hour and 20 minutes journey lets one smile, jump, dance, cry and love along with Ambili.