Love Action Drama movie review: Dhyan hits bullseye
DECCAN CHRONICLE | Gokul m.g
Published on: September 6, 2019 | Updated on: September 6, 2019
---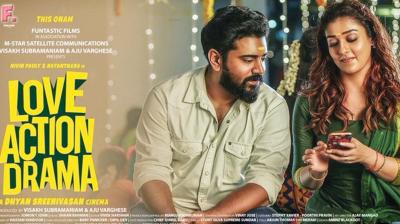 Director: Dhyan Sreenivasan
Cast: Nivin Pauly, Aju Varghese, Nayantara, Sreenivasan, Vineeth Sreenivasan
When it comes to movies and people, we're very familiar with chemistry. Generally used to describe a certain quality of relationship between characters, or off-screen talent, chemistry is a neat little word that we often use without a second thought. It is a wonderful force that is so hard to properly describe, but that can make or break the film. The 'bromance' of Nivin Pauly-Vineeth Sreenivasan-Aju Varghese was a wonderful force that resulted in a few hits in Mollywood. Love Action Drama shows why it has prevailed almost a decade as a favourite combo for many movie-goers. Through LAD, Dhyan, the younger brother of Vineeth Sreenivasan, adds his name in that combo, and we may see more from them.
In this Dhyan Sreenivasan directorial, Dinesh (Nivin Pauly), a wealthy young man who gets rejected by
his childhood lover, finds his true love in Shobha (Nayantara), a Malayali girl brought up in Chennai. But before winning her heart, Dinesh has to change his sluggish way of living and quit two addictions, smoking and heavy drinking. Will he succeed in doing that? Will his friend Sagar (Aju Varghese) be able to help him?
Nivin Pauly, who has had a slow start to the year with mediocre movies like Mikhael, makes a big leap forward with this rom-com. After the success of Oru Vadakkan Selfie, fans of Nivin Pauly's comedy roles didn't have much to celebrate. To an extent, LAD can satisfy them and seeing the usual suspects of Nivin-Aju-Vineeth in one frame would be huge for them. The film's storyline is pretty simple and at times predictable, but altogether they could bring back the good old slapstick comedy successfully. And funny one-liners from Aju, like
in Malarvadi Arts Club, Thattathin Marayathu and in Oru Vadakkan Selfie, make a comeback in this movie.
Dhyan's direction is above average and the film hardly offers any boring or dead sequence. Nayantara's
ethereal grace and suave acting in these types of rom-coms is a treat as always. Vineeth Sreenivasan, Sreenivasan, Renji Panicker and Mallika Sukumaran prove to be a well-balanced cast with their performances.
Delicious visuals in Chennai and decent music make it a worthy one-time watch.