Finals movie review: Love and perseverance always win
DECCAN CHRONICLE | elizabeth thomas
Published on: September 6, 2019 | Updated on: September 6, 2019
---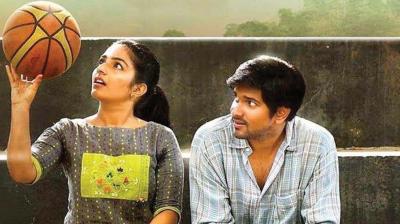 Director: P.R. Arun
Cast: Rajisha Vijayan, Suraj Venjaramoodu, Niranj, Tini Tom, Sona Nair
Love and perseverance can change one's world. The movie Finals flows in tune with this thought. A sports drama, it portrays joys and pangs of Alice (Rajisha), a cyclist from Kattappana, a hill station. Daughter of Varghese (Suraj), a disciplinarian and former athletic coach, Alice's life is devoted to realise her father's dream of winning an Olympics medal. She is deeply in love with her childhood friend Manuel (Niranj). As she works hard towards her Olympic dream with the support of her father and friend, her life takes an unexpected and a fatal turn. At this juncture, one might figure out a conclusion in mind. But, debutant P.R. Arun, who wrote and directed the movie, takes a track less travelled, which makes Finals enjoyable, except for a few overly dramatic sequences that could have been trimmed.
Although Finals is an inspiring tale like all sports dramas, there is always a twist in the tale. Arun has tried his best to be realistic in dialogues. Alice's speech at her school is an instance. It shows financial insecurities many sports persons in Kerala face. The movie also points to corruption and other issues in the scenario.
When it comes to performances, Rajisha is convincing as a passionate cyclist and obedient daughter. Niranj, son of actor Maniyanpilla Raju, has improved from his previous outing Bobby. His effort to be the humble
villager reflects on screen. But, Suraj Venjaramoodu steals the show with his subtle yet powerful performance as a concerned father, hapless human being and brilliant coach.
Sudeep Elamon's fresh frames rightly capture emotions of characters. They move along with the minds of characters. Kailas Menon's songs also add to the ambience.