Friday mayhem at marquee
DECCAN CHRONICLE | Anupama Subramanian
Published on: May 10, 2019 | Updated on: May 10, 2019
---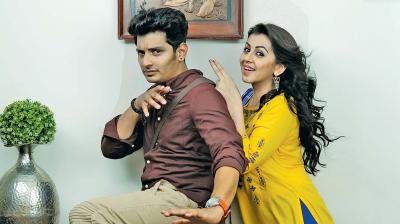 The Tamil film industry has been going through turbulent times of late. Adding to the drama, most big films that were scheduled to release on Friday (May 10) did not make it to the screens.
There was a time in the industry when nine to ten films, big and small, would hit the screens at the same time on a Friday. But in the recent past, the trend has veered towards last minute delays and postponement of several films, much to the dismay of producers and cine fans.
The reason for the postponement in the case of all Friday May 10 release films is said to be financial issues that the producers have been facing because of their previous production ventures.
It was shocking to hear that the much-hyped Ayogya, starring Vishal, considered the most powerful man of Tamil cinema as he holds two positions as President of TFPC and secretary of Nadigar Sangam, was held back at the last minute. Numerous theatres across Tamil Nadu had even opened advance bookings for Ayogya and many shows were sold out. But as the morning and afternoon shows got cancelled, a disappointed Vishal took to twitter to expressed his anguish.
"As I wait. For my hard work called #ayogya to release. I did my best. more than an (link: http://actor.as) actor. as always. I groomed my child since it came on my lap. BUT not enuf??? #gajjnimohamed. My time will come. I continue my journey Gb."
Reportedly, the film has made business of `37 crores including pre-release deals, satellite rights, FMS etc. According to sources, B. Madhu of Light House Movie Makers who has bankrolled Ayogya, was facing pressures from financiers who were demanding that they be compensated for losses sustained in the remake of Tollywood film Temper. Also, there was an issue between a Telugu producer and Madhu relating to selling the Hindi-dubbing rights. As a result, there was a deficit amounting to `5 crore and hence the release was stalled. Negotiations were still on and as Vishal had reportedly stepped in to give `1 crore the film might have hit the screens by the evening show, if all had gone well that is.
The Jai-Varu- Catherine film Neeya 2, which was to release on Friday, got postponed to May 24 for unknown reasons. The release of the Atharvaa- Hansika film 100, which had earlier been postponed by a week, and was aiming to release on May 10 did not make it to the screens either.
Sam Anton who directed 100 took to his social media handle to say, "Thanks for all the wonderful reviews for #100 me and my team have given our heart and soul for this film . we r really sorry we cudn release our film in time, sorry guys 100 won't release tomorrow .. My job is done Moving on to Gurkha".
The only big film that was successfully released on May 10 after several months of struggle and delays was the Jiiva-Nikki Galrani-Anaica Soti's Kee. A few small films like Vedhamanavan, Unmayin Velicham and Engu Sendrai En Uyire were released without a hitch on Friday.