SC strikes down 4 states' ban against 'Padmaavat', gives nod for release
DECCAN CHRONICLE | DC Correspondent
Published on: January 18, 2018 | Updated on: January 18, 2018
---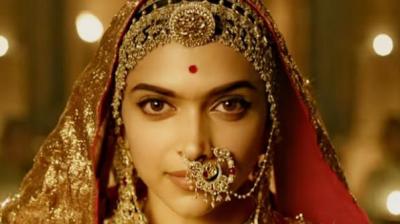 New Delhi: The Supreme Court on Thursday cleared the decks for the all-India release of controversial movie 'Padmaavat' on January 25, and stayed notifications and orders issued by Rajasthan and Gujarat prohibiting exhibition of the film in their states.
A bench headed by Chief Justice Dipak Misra also restrained any other state from issuing such notifications and orders prohibiting exhibition of the movie.
The bench, also comprising Justices A M Khanwilkar and D Y Chandrachud, observed that the states are obliged to maintain law and order.
"We direct that there shall be a stay of operation on the notification and orders issued, and we also restrain other states from issuing such notifications or orders in this matter," the bench said in its interim order.
Senior advocates Harish Salve and Mukul Rohatgi, representing Viacom 18 and other producers of the movie, told the bench that states have no power to issue such notifications banning exhibition of a film when the Central Board of Film Certification (CBFC) has given a certificate of release.
The bench has posted the matter for further hearing in March.
The producers had approached the top court challenging the notification and orders issued by four states, Gujarat Rajasthan, Haryana and Madhya Pradesh, prohibiting exhibition of the film.
During the hearing, Additional Solicitor General Tushar Mehta, who was representing Rajasthan, Gujarat and Haryana, informed the bench that notification and order has been issued by states of Gujarat and Rajasthan only.
Governments of Haryana, Gujarat, Madhya Pradesh and Rajasthan had declared that they will not allow screening of the movie, which stars Deepika Padukone, Shahid Kapoor and Ranveer Singh in lead roles.
The producers submitted that the movie has undergone changes, including in its title, as suggested by the CBFC.
Asserting that the film has been cleared by the CBFC, the plea has said that the states cannot impose a blanket ban on a film, and its screening can be suspended in a particular area or areas on account of law and order problem, not across the states.
Politicians of all hues, including some chief ministers, recently made public statements on the film, with many of them being against it.
The film is based on the saga of the historic battle of 13th century between Maharaja Ratan Singh and his army of Mewar and Sultan Alauddin Khilji of Delhi.
The set of the movie was vandalised twice, in Jaipur and Kolhapur, while its director Sanjay Leela Bhansali was roughed up by members of the Karni Sena last year.