URI breaks January jinx; strikes gold
DECCAN CHRONICLE | subhash k jha
Published on: January 15, 2019 | Updated on: January 15, 2019
---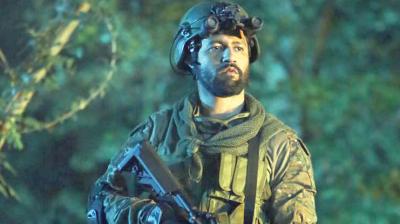 After 2018's bonanza for Bollywood, it appears that this year too will bring it some rich harvests.
Following on the heels of big hit Simmba, Uri has notched impressive box office numbers. Made with a budget of approximately Rs 25 crore, Uri is already showing good profits within a week of its release.
The film collected Rs 8.43 crore on Day 1. The figure leapt to Rs 12.43 crore on Day 2 and over the weekend did a staggering Rs 35 crore. Collections are expected to touch the Rs 100 crore mark by next weekend.
The other surprise success of the week is the Dr Manmohan Singh biopic The Accidental Prime Minister. Like Uri, this film too has shown impressive growth over the weekend and is dubbed in Tamil and Telugu from Friday.
Trade analyst Amod Mehra says, "People today are eager to see something different, but it should have some substance to back it. Both films depict true-life incidents from recent history and both have their own audience. The modest budget of The Accidental Prime Minister has made the film commercially viable. Uri arouses patriotic emotions and is a slap on the face of our enemy No.1, namely Pakistan."
Trade pundit Atul Mohan adds, "Topical, well-made, right marketing and buzz are the factors in favour of these two films. The country is entering into election fever now and the buzz that these are propaganda films by the ruling party have also added to the curiosity element. People have liked them and this positiveness is growing into footfalls." Trade expert Girish Johar sees the triumph of these two starless dramas on the same Friday as a victory for content. "To me, it clearly shows that content is king. Despite the so-called lesser mass-appeal stars, these films started well and strongly consolidated thereon. The audiences have shown clearly that all they want is good appealing content which is entertaining and also worth their time and money. This is a great trend for the business of film making as it will enable good stories to be told irrespective of who is starring in it. Overall is a very comfortable start movie business in 2019!"
Meanwhile
Uri's cast Vicky Kaushal and Yami Gautam and director Aditya Dhar are in Delhi today to take part in the annual Army Day parade. As a tribute to the Indian Armed Forces on this day, Ronnie Screwvala's RSVP has decided to donate Rs 1 crore towards Army Women Welfare Association (AWWA). Speaking on this, Ronnie Screwvala says, "We take each day in our lives for granted and yet these brave women and men in our army, navy and air force stay committed, disciplined and resolute to protect us and stand in front of us. They are the true inspiration of modern-day India and we all need to draw examples from the selfless lives they lead and the pride with which they carry themselves. It's humbling for all of us at RSVP and Uri to make this small token donation for their massive contribution and sacrifice for our country. May the josh be with them. Jai Hind."