Simmba: When Ranveer Singh stepped out in disguise!
DECCAN CHRONICLE | DC Correspondent
Published on: January 7, 2019 | Updated on: January 8, 2019
---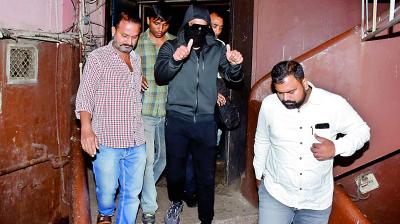 Ranveer Singh, who returned from his honeymoon in Sri Lanka on Sunday, set off immediately to check the response to his film, Simmba. Interestingly, the actor chose to wear a mask rather than go as his real self for this expedition!
Ranveer visited the G-7 multiplex, popularly known Gaiety Galaxy in Mumbai, where the tickets are modestly priced to enable a lot of patrons see films. "It was rather strange that Ranveer was wearing a mask. He came, saw the screening and went off. Perhaps he may have taken his moustache and beard off to promote Gully Boy. They have a party on Monday night to celebrate Simmba's success and he probably wanted to be in the new look there," says a paparazzo.
"By the time the crowd realised that it was Ranveer, he had left the auditorium. But judging by the security around him, it was not difficult for people to guess that a celebrity had come a-visiting," the paparazzo adds.