Farah Khan and Sania Mirza to bare their hearts on Karan Johar's Koffee couch
DECCAN CHRONICLE | DC Correspondent
Published on: November 7, 2016 | Updated on: November 7, 2016
---
Mumbai: Farah Khan might not have directed a film since the uber-successful 'Happy New Year,' but she still is a circuit regular thanks to her innumerous friend circles. Sania Mirza is currently No.1 in her profession and has continued to be the personification of glamour, outside of it.
What happens when the two are brought together?
Well Karan Johar seems to have pulled a coup, as he's managed to get the two to come onto his 'Koffee couch'.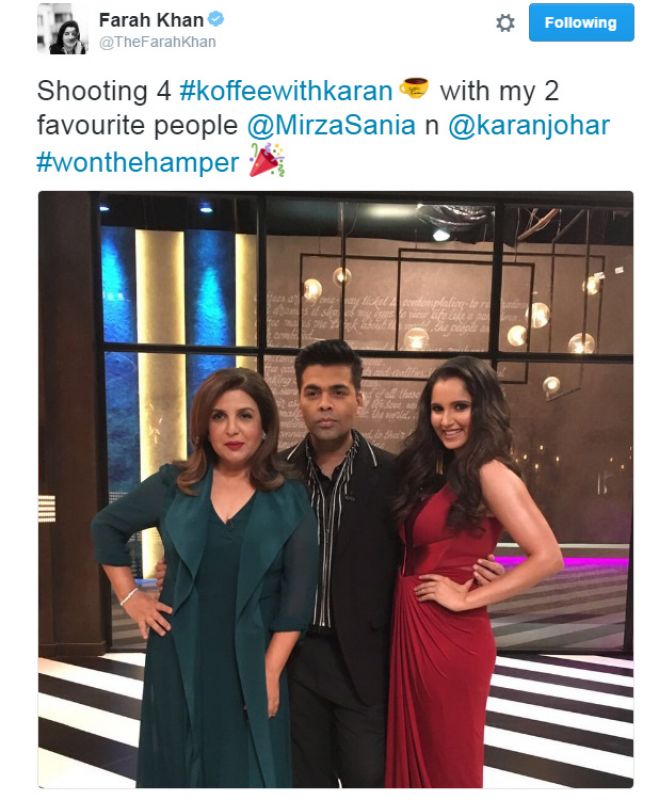 And turns out, Farah even managed to win the hamper. Those must have been some bold rapid-fire answers!
'Koffee With Karan' kickstarted its fifth season with a bang last night, with Shah Rukh Khan and Alia Bhatt. The director, whose 'Ae Dil Hai Mushkil' is still running to packed houses, also managed to get childhood friend Twinkle on the couch along with her superstar husband Akshay Kumar.
Twinkle, who was her witty self, reportedly had some crazily explosive ripostes up her sleeve, managing to embarrass Akshay and Karan, both.
It needs to be seen how well the Farah-Sania episode turns out!