Gold jumps Rs 970; silver zooms Rs 1,600
DECCAN CHRONICLE | DC Correspondent
Published on: March 13, 2023 | Updated on: March 13, 2023
---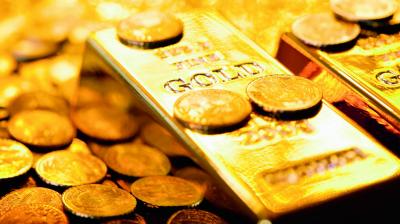 New Delhi: Gold price jumped Rs 970 to Rs 56,550 per 10 grams in the national capital on Monday amid a rally in rates of precious metal internationally, according to HDFC Securities.
In the previous trade, the yellow metal had settled at Rs 55,580 per 10 grams.
Silver also zoomed Rs 1,600 to Rs 63,820 per kg.
"Spot gold prices in the Delhi markets traded at Rs 56,550 per 10 grams, up Rs 970 per 10 grams," Saumil Gandhi, Senior Analyst - Commodities at HDFC Securities, said.
In the overseas markets, both gold and silver were trading higher at USD 1,875 per ounce and USD 20.75 per ounce, respectively.
"Gold prices rose to their highest in more than five weeks amidst positive US economic data, fall in dollar and jitters over the largest US bank failure since the 2008 financial crisis, driving investors to the safe-haven asset," Navneet Damani, Senior VP - Commodity Research at Motilal Oswal Financial Services, said.