EPFO to trim investments in AAA bonds; may pump Rs 3,000 crore
DECCAN CHRONICLE | DC Correspondent
Published on: August 28, 2017 | Updated on: August 28, 2017
---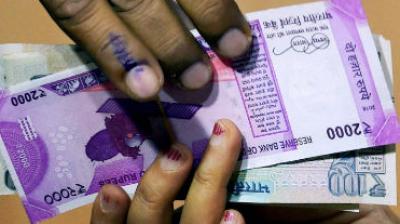 Hyderabad: Union Labour Minister Bandaru Dattatreya said the employees provident fund manager EPFO has decided to invest about Rs 3,000 crore in high-rated corporate bonds this financial year.
The Employees Provident Fund Organisation or EPFO at a recent meeting decided to cut the current investment of Rs 15,000 crore in AAA-rated bonds by Rs 3000 crore and invest that amount in AA+bonds.
"We invest Rs 15,000 crore in AAA-rated bonds. In view of the high returns and to increase the basket, we have decided to invest Rs 3,000 crore in AA+rated corporate bonds also where the return is 25-45 basis points more than that of AAA bonds. So far we have been investing in AAA bonds only," Dattattreya told PTI.
The investment will be made in those corporate bonds which have been rated by at least two rating agencies as AA+, a senior official of the EPFO said.
"The other criterion is that the company should be making profits for the past three consecutive years and its networth should be over Rs 1000 crore," the official said.
Replying to a query, Dattatreya said a high level committee has been appointed to examine the report submitted by IIM Ahamedabad on disbursement of dividends it gets from investments in ETFs.
The EPFO has cumulatively invested Rs 27,000 crore in the Sensex and the Nifty ETFs (exchange traded funds) for the past two years. As of July, the return from ETF investments was 12.55 per cent which is way more than the 8.65 per cent we pay to the members, the minister said.
"So far we are only investing in FTFs and not crediting the proceeds to the outgoing members as there was no mechanism to disburse the interest or dividend to them. IIM gave its report. We will form a high powered panel to study
the report," he said.
The official quoted above said necessary software modification have to be carried out to disburse dividends and other income resulting out of ETF investments to the outgoing members. The official further said necessary action plan on the report will be placed before the Central Board of Trustees for approval soon.