Cement demand to pick up in Q3
DECCAN CHRONICLE | Ritwik Mukherjee
Published on: June 27, 2019 | Updated on: June 27, 2019
---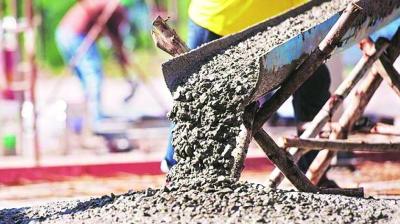 Kolkata: Slow-down in project execution has taken its toll on the cement demand in the country. In the first quarter of FY2020, cement demand has slackened significantly. So has the cement production. There is a ray of hope as experts expect an upturn in demand from the third quarter, that is, post monsoon.
Going by the latest ICRA study, in April 2019, cement production at 28.7 million MT is lower by 13.3 per cent on an M-o-M basis. The demand is expected to pick up from Q3 FY2020, post the monsoon season, and a growth of 7 per cent is expected during the current financial year. Coming to profitability, in Q1 FY2020, the higher cement prices and lower costs - power and fuel and freight expenses - are likely to result in margin recovery, it said.
"ICRA expects cement demand growth to taper in FY2020 to around 7 per cent from double digit growth of 13 per cent in the previous year. The demand has been tepid in Q1 FY2020 due to slowing of the project execution on account of general elections (usually resulting in labor unavailability). In Q2 FY2020, the consumption is expected to be on lower side owing to the monsoon season.
Hence, ICRA expects the demand to pick up in Q3 FY2020 and the growth is likely to be driven by housing, primarily rural housing and affordable housing, and improved focus on infrastructure segments, mainly road, railway and irrigation projects," said Sabyasachi Majumdar, Senior Vice President & Group Head, Corporate Ratings, ICRA.
On the capacity front, ICRA expects around 18-20 MTPA to get added in FY2020. All the new supplies are not fully integrated and most capacity additions are backed by old limestone mining leases.