Entertainment
Bollywood bids goodbye to its Grand Old Lady Zohra Sehgal
Deccan Chronicle | DC Correspondent
Published on: July 11, 2014 | Updated on: Invalid date
Sehgal's last rites were performed in Delhi by her son Pawan
Veteran Bollywood actress Zohra Sehgal
New Delhi
: Family and friends bid farewell to veteran actress Zohra Sehgal, who was cremated here today.
The last rites of the 102-year-old actress, who died
on Thursday, were performed at the Lodhi Road crematorium by her
son Pawan in the presence of her daughter Kiran and
grandchildren.
Former Delhi chief minister Sheila Dikshit, Shabana Azmi,
Javed Akhtar, theatre personality MK Raina and Prasar Bharti
CEO Jawahar Sircar were among those who turned up to pay their
last respect.
Zohra's body was kept in an open area for sometime for her
admirers before being taken for the final rites.
Read:
Bollywood's Grand Old Lady Zohra Sehgal no more
Azmi remembered the actress for her vivacious personality.
"I worked with her for the first time in a play in 2002.
She was around 90-year-old at that time. She was always
punctual at the rehearsals. She was thorough professional and
always had a smile on her face. She always used to crack
jokes," Azmi said.
Akhtar said it was not possible to write the history of
21st century theatre without Zohra Sehgal.
"She had contributed a lot to every field where she had
worked be it dance, theatre or cinema. She had a cheerful
personality," Akhtar said.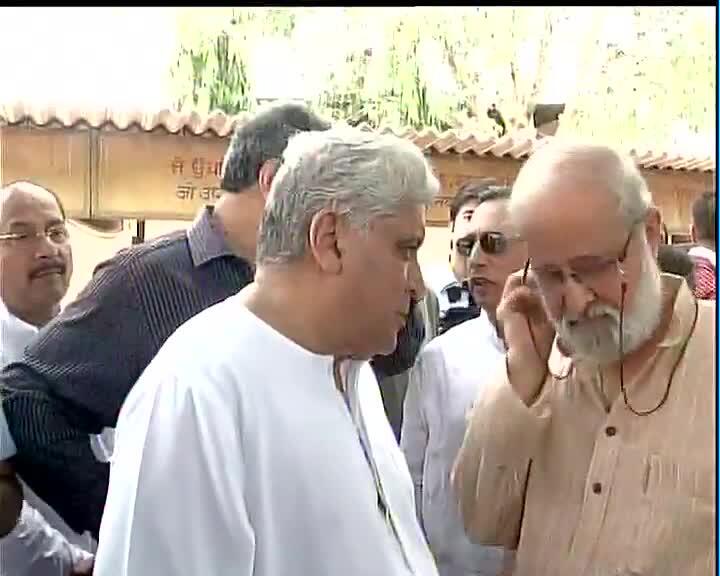 (Photo: Javed Akhtar and Activist Sohail Hashmi at Zohra Sehgal's last rites ceremony)
Raina said Sehgal's death marked the end of an era in
theatre. "She was punctual and highly professional. She was
always prepared with her dialogues. Her presence used to make
the environment lively," he said.
The veteran star spoke about death at her 102 birthday in
April this year, saying she was preparing herself to die with
a smile. She had told her family that she wanted a simple
funeral.
Sehgal had a great innings as an artiste, performer and
actor that spanned more than seven decades. She started her
career as a dancer with Uday Shankar in 1935. She had appeared
in many Bollywood films as a character actor as well as in
English language films besides television series and plays.
Often called the grand old lady of Bollywood, she last
appeared in Sanjay Leela Bhansali's 'Saawariya' in 2007.
She worked with some of the biggest stars of this era be
it Amitabh Bachchan in 'Cheeni Kum', Shah Rukh Khan in 'Dil
Se' or Salman in 'Hum Dil De Chuke Sanam'.
A Padma Shri awardee, she also received the Padma Vibhshan
in 2010.
She was full of life till her last day, she loved living every moment of the 102 years-Javed Akhtar on Zohra Sehgal pic.twitter.com/c77LeqYzP3

— ANI (@ANI_news) July 11, 2014
T 1541 - Zohra Sehgal passes away at 102 yrs ..what a journey and what an immensely loveable co star ! Prayers for her blessed soul !!

— Amitabh Bachchan (@SrBachchan) July 10, 2014
RIP Zohra Sehgal . She will surely be missed ..

— ANUSHKA SHARMA (@AnushkaSharma) July 11, 2014
T 1541 - Zohra Sehgal ... she epitomised life, living and its zest .. a spirit that could shame a teenager, and a smile that lit up..the DOS

— Amitabh Bachchan (@SrBachchan) July 10, 2014
#RIP Zohra Sehgal. What a legend! What a life!

— Gul Panag (@GulPanag) July 10, 2014
R I P Zohra sehgal! Wil always remember sharing kulfi with you on t sets of veer Zara!n all those pranks n laughter! Tat zindadili!u made

— Divya Dutta (@divyadutta25) July 10, 2014
RIP Zohra Sehgal.....what a life....it's that moment when you truly celebrate the end of such a legendary and glorious era....

— Karan Johar (@karanjohar) July 10, 2014
Prolific & full of life, Zohra Sehgal made a mark through her acting, which is admired across generations. Saddened on her demise.

— Narendra Modi (@narendramodi) July 10, 2014
Latest News
Most Popular
Columns