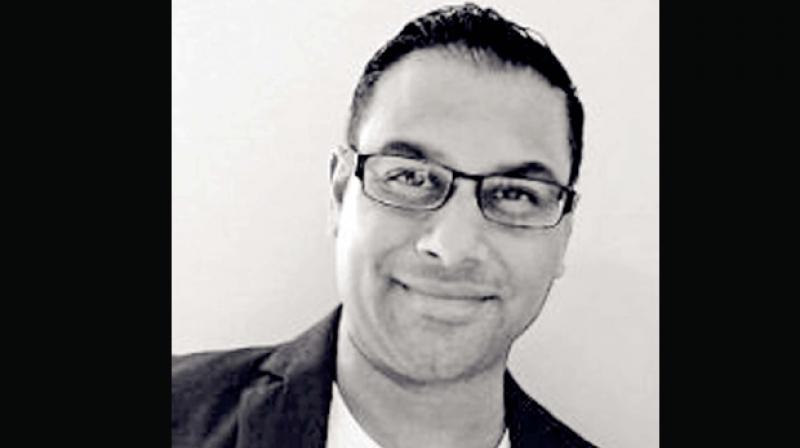 Chennai: Aiming to participate in "Make in India" programme of the Narendra Modi government in a big way, an NRI and great grandson of former President V.V. Giri, Harish Palagummi has planned to launch his unique "bio-wearable diagnostic device" to empower doctors to decide when a medical intervention is required or for a more effective mode of treatment.
This tool will immensely benefit the medical fraternity in India and is a boon to the patients, says Mr Harish Palagummi who also happens to be the great grand nephew of former President Dr Sarvepalli Radhakrishnan. With this bio-wearable diagnostic device, Mr Palagummi says he would focus on supporting Prime Minister Modi's "Make in India" policy wherein he would be driving all of his hardware production through Indian Manufacturing facilities.
"I am keen to not only support the Make in India drive but also wish to ensure that I can provide our device at a price point that allows us to get it to the masses. These non-invasive wearables will benefit medical professionals besides provide for a more seamless patient engagement. This approach ensures quality of care for all in need, irrespective of socioeconomic standing," Mr. Palagummi adds.
At Liminno, a global innovation company, scientific and technology researchers are in the process of developing a bio-wearable diagnostic device containing an app that monitors the functioning of key diagnostics and a host of other functions whilst also delving non-invasively into the protein and enzyme level, thereby avoiding a battery of tests to gauge the condition of the patients. Its Director, Harish Palagummi, who is also founder and managing partner of Liminno, had recently come scouting for hospitals in Chennai that could test this innovation in late-2016.
This will emerge as an ultimate diagnostic tool. "For instance, if a sportsperson wears this, a doctor in the side-line remotely monitoring them will be able to accurately determine, down to an enzyme level, the state of the player on the field. This will help facilitate preventive care and effective treatment," Mr Palagummi said.
...