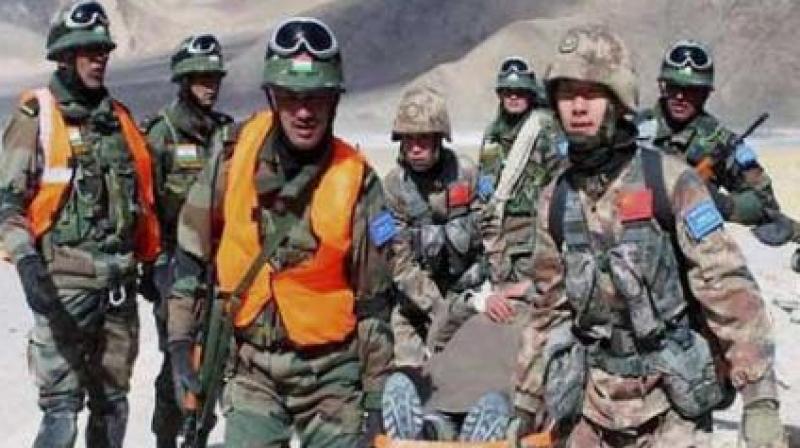 Bid to avert future border flareups?
New Delhi: Asian giants India and China seem to have taken their defence cooperation to a whole new level despite irritants in bilateral relations, with the two nations conducting joint tactical exercises in Jammu and Kashmir for the first time. The exercises were held Saturday in eastern Ladakh by border troops of the two armies and are part of efforts to enhance interaction between the border-guarding forces of the two sides.
China has illegally occupied Aksai Chin in eastern J&K, that comprises huge swathes of land of thousands of kilometres. Chinese troops are also involved in projects in Pakistan-occupied Kashmir, while China is also building an economic corridor linking it to Pakistan through PoK despite Indian protests.
India had earlier signed a Border Defence Cooperation Agreement with China a few years ago to eliminate the possibility of any sudden military conflagration along the Line of Actual Control (LAC). Under this agreement, the border patrols of the two sides were not to "tail" each other when they come face-to-face while patrolling the LAC, the de facto border in both the J&K and Arunachal sectors. Chinese troops often transgress into Indian territory as both nations have different perceptions of the LAC demarcation that they never mutually agreed upon.
In a statement from Udhampur, headquarters of the Indian Army's Northern Command in J&K, the defence ministry said: "The first Joint Tactical Exercise between border troops of both countries was conducted in the Chushul-Moldo area on February 6. This is a part of ongoing initiatives taken by India and China to ensure greater interaction between troops stationed along the LAC, and thereby ensure peace and tranquillity on the border. As previously agreed by both countries, the exercise focused on actions to be coordinated to jointly tackle aspects of Humanitarian Aid and Disaster Relief.
The Indian Army team of 30 personnel was led by Col. Ritesh Chandra Singh while the Chinese delegation was led by Col. Qu Yi. Lasting an entire day, the joint exercise was based on a situation of a national disaster occurring on the border and the subsequent rescue mission coordination by joint teams of both countries."
The MoD added: "The joint exercise, code-named 'Sino-India Cooperation 2016', compliments the Hand-in-Hand series of India-China Joint Exercises and the recently conducted border troops Joint Exercise in Sikkim. The increased interaction amongst Indian and Chinese border troops is a very positive step in enhancing confidence and building relations between the two armies."