Mumbai: 'Go veg, go vegan', is the new food mantra. More and more people are turning toward veganism and vegetarian diet from health point of view.
Turning vegetarian or vegan has many health benefits. Not only it helps you in weight management and loss but also increases your fiber intake from plant based foods which helps to fight against various chronic diseases. Getting healthy and glowing skin, balanced blood pressure and improved cholesterol are just few more added benefits.
But at times it's difficult to make a pick at a eatery when you plan to eat out because of your limited food choice. Not many restaurants have menu especially for such customers.
Hence, in order to adapt to this new food trend many restaurants in India are focused on bringing something for their veg and vegan customers, in order to please them. Not only they are ready to serve what the customers want but are also ready to experiment and curate a new menu for them.
Here's a list that we have complied for all our vegetarian and vegan food lovers. Give these mouthwatering dishes a try, next time you plan to go out:
(Photo: The American Joint)
Are you a mac and cheese fan but love Paneer tikka as well? How about if we tell you that now you don't have to make a pick and can relish taste of both the world in just one palate?
Mac and tikka is a fusion, loaded with cheese the dish is served with tikka gravy. This might sound weird but this American-Indian fusion is a hit.
"This is a sizzling American Mac and cheese with an organic tikka twist. People like such fusion not every person will like the original mac and cheese, however this is new and people are loving it. Everything used in this dish is organic, which makes it light on your stomach," says Manan Mehta, CMO of The American Joint.
Chilli cheese burger:
(Photo: The American Joint)
Wouldn't you opt for a burger that's organic and healthy? This is the perfect pick when it comes to eating something healthy. The burger is stuffed with organic potato patty with fine chopped chillies. No doubt it's spicy but the sour taste of creamy cheese balances it. If you are a vegan, you can still eat this treat and replace cheese with some other sauce of your choice.
"Vegetarianism isn't just a fad, I feel as time moves forward more people will be adopting a meat free lifestyle. However, just filling your diet and veggies won't do you any good if you know nothing of their origin," says Parag Vakil, executive chef, The American Joint.
Mountain 'O' nacho: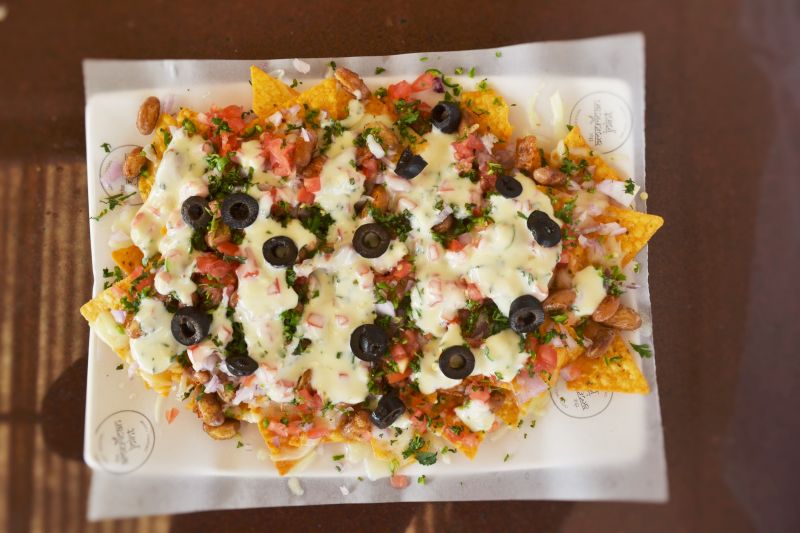 (Photo: The American Joint)
The dish is a must try for all the nachos lover. Covered in the sheet of melted cheese, the crispy chips are just worth every bite. Topped with queso sauce, the dish is filled with charro beans, tomatoes, lettuces and jalapenos.
Popeyes Revenge:
(Photo: The American Joint)
This light, tasty salad is a much try. Popeyes Revenge is a vegan salad. A healthy and tasty package of fresh organic pasta tossed with fresh spinach, potatoes, olives, carrots, & oven roasted tomatoes.
"Every vegetable used for cooking is organic and brought from farms. People in India want organic food and restaurateurs can serve it," says Manan Mehta.
...