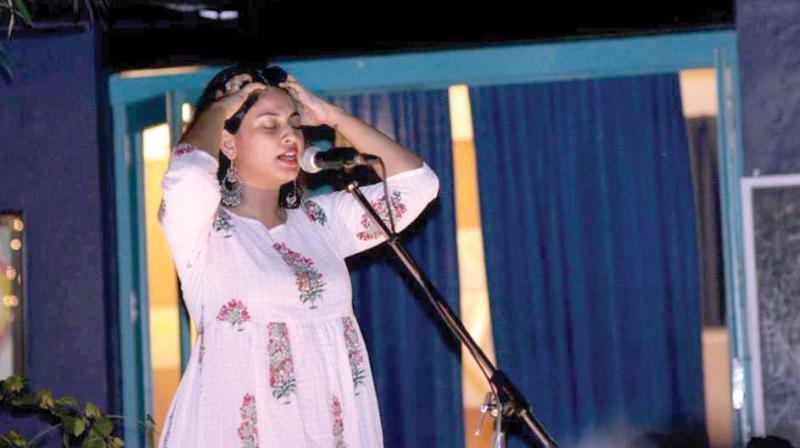 "No verse is free for the man who wants to do a good job.... Poetry.. remains one person talking to another..." T.S. Eliot once famously remarked. Spoken word poetry is perhaps one of the most ancient performance arts, with poetry itself having evolved long before there were printing presses. With the likes of Sarah Kay, Andrea Gibson and Marc Smith (aka Slam Papi, the founder of the poetry slam movement) having given the art form a contemporary revival, a new wave of young, driven poets have taken the scene by storm, bringing poetry to the masses with works that focus on contemporary struggles, from love and grappling with identity to travel and social causes.
Among them is Rochelle D'Silva, who will conduct a workshop on spoken word poetry in the city this weekend. She discovered spoken word, she says, almost by chance. A self-professed 'awkward kid', who had very few friends in school, she found solace in writing poetry, the kind she describes as the "cheesy a-b, a-b rhyme scheme variety." In 2011, when she was doing her Masters' degree, she was told to come up with a final assignment. "A friend of mine had passed away recently and I had already written a poem about him - it was his story. I decided to read it out to the class as my assignment." When she was finished, her classmates asked her if she knew about spoken word poetry. "I came home, looked it up and found people like Sarah Kay. I was very intimidated by it. I write about my own life and what happens in it, I couldn't believe that people would actually want to hear it! But life had another plan for me!"
She moved to Melbourne a month later and found her way into the spoken word scene almost at once. "I met a friend of a friend, who happened to be running the Centre for Poetics and Justice. They would take poetry to schools at the time." One of the people she happened to meet was Joel McKerrow, a celebrated presence in the literary, performance poetry circles. "He asked me to perform at an open mic night, which happened to be in a pub - not a conducive place for poetry! At the end of the night, however, the host thanked me and hoped to see me again, which was all the encouragement I needed!" That little seed of validation carried her far - "So many strangers had invested in my poetry and believed in me. I decided I would say yes to anything that came my way."
She did the rounds of competitions, which unleashed a side to her she didn't quite enjoy. "That's when I started investigating the art form for its own sake," she recalled. "I wanted to read a poem at every open mic I attended, but I came to learn that I had to fully embody the poem I chose. I also learned that memorising isn't absolute - you can miss a line or a word on stage, so you need to improvise." Spoken poetry, she found, differed significantly from the written kind in this aspect - with the latter, every word carries weight, she explains.
"Performing throws up a whole new set of questions - what do I do with my hands when I'm on stage, for instance? How do I keep my audience's attention without a loud voice or an aggressive manner? I know what my style is now and I don't try to fit with what is popular. Poetry is about vulnerability." At the workshop, D'Silva will participants through the basics, from writing exercises to crafting and editing a spoken word poem as well as tips on performances.

Rochelle D'Silva will also launch her book, When Home is an Idea, a collection of poems on identity and belonging, on October 14, at Atta Galata. Born and raised in Mumbai, she has called many places across the world home over the years. "It talks about travelling on local trains, for instance, or feeling eyes on you when you go for a jog in the morning. A lot of people my age are struggling with the idea of identity and home - I never identified with my Indianness until I left the country," she said.
What: The Art of Performance Poetry with Rochelle D'Silva
When: Oct. 15, 10.30 am onwards
Where: Atta Galatta, 134, KHB Colony, 5th Block, Koramangala